Government promises to keep Aspendale CSIRO climate centre open until 2023 after outcry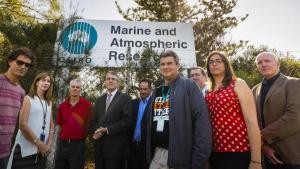 The beleaguered Aspendale CSIRO has been given a last-minute reprieve following months of campaigning by climate scientists, reports the Herald Sun.
Isaacs MP Mark Dreyfus today announced the Federal Government has guaranteed to keep the world-renowned CSIRO Marine and Atmospheric Research centre open, but not indefinitely.
A spokesman for Federal Science Minister Greg Hunt said "CSIRO has committed to continuing climate science at Aspendale, with a commitment to operate the site to at least 2023 on a fully funded basis".
This article was first published at the Herald Sun. 
At least 30 climate researchers at the centre were made redundant earlier this year, as part of an Australia-wide organisational "restructure" approved by the CSIRO board, chief executive Larry Marshall, former Science Minister Christopher Pyne, and Prime Minister Malcolm Turnbull.
It was revealed in April that internal CSIRO communications presented to the Senate Estimates Committee recommended the cuts be focused on Aspendale as a way to remove climate scientists "who will no longer be aligned with the new CSIRO strategy".
Aspendale CSIRO Community and Public Sector Union representative Michael Borgas said the seven-year protection period was "a necessary positive step".
"The morale is still very bad, but overall it's a positive step in the right direction," Dr Borgas said.
"We do think there are still a lot of unresolved issues.
The announcement won't save Melbourne scientists who are facing the axe, some of whom have already been shown the door.
Dr Borgas said five cases were still being disputed by the union.
Mr Dreyfus, who has been a vocal supporter of the centre, said the announcement was "a huge win for Aspendale residents, for Australian science and for local jobs".
"While the government's cuts to the CSIRO and to local research jobs remain, I am pleased that local community pressure has forced the government to commit to keeping the CSIRO Marine and Atmospheric Research Centre open until at least 2023," Mr Dreyfus said.
The Isaacs MP said the "fight isn't over yet", and pledged to continue to push the Federal Government to restore funding to the Aspendale CSIRO and end job cuts.
This article was first published at the Herald Sun.