Delegate Training
Training and development opportunities are available for delegates. Speak to your organiser in the first instance or visit the CPSU delegate training page for more information.
Please note that due to COVID-19 restrictions, no in-person training is currently available, however online learning opportunities are being scheduled.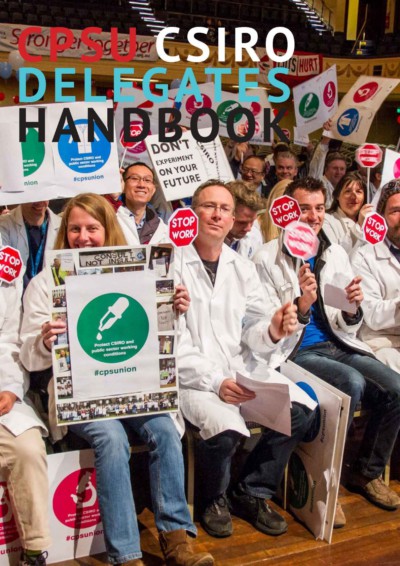 NEW – Delegate Handbook
The CSIRO Staff Association version of CPSU's delegate handbook is now available.
This comprehensive resource provides a basic introduction to the position and topics including:
CSIRO Section structure
delegate rights
organising strategies
building union profile
boosting recruitment
identifying individual and collective workplace issues.
Delegate Elections 2020
Nominations have now closed and delegates have been elected for a twelve-month term, beginning 1 July 2020.
Staff Association workplace delegates are CSIRO employees that help provide members access to individual workplace advice and support. All delegates are provided with individual training and specialist support to help them make the best of their new role.
If you're keen to make a positive improvement to your workplace and support your fellow CSIRO workers, contact an organiser to find out how you can become a Staff Association delegate.