On the road in New South Wales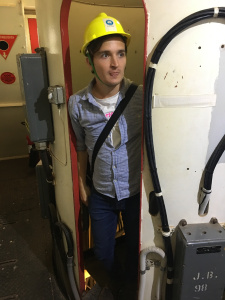 The newest addition to the Staff Association organising team – Lachlan McSpedden – recently completed a whirlwind tour of CSIRO sites in regional New South Wales.
Accompanied by National Organiser Michael Macdonald, Lachlan visited several landmark facilities and the diverse mix of people, research and communities left a big impression.
IT CAN BE A SOMEWHAT daunting process for a new organiser to have meetings at a CSIRO sites they've never visited before, let alone in places hundreds of kilometres away from home. This New South Wales regional tour was an attempt to understand the research that our Staff Association members undertake and the workplace issues that are of interest and concern.
At a more basic level, the trip was an opportunity to introduce myself, meet some amazing people and engage in some stimulating discussion. I wasn't disappointed.
Community culture
Situated on the land of the traditional owners the Anēwan people, CSIRO's Armidale Chiswick site is famed not only for agricultural research but the tight-knit community feel of the workplace. It was pleasure to sit in on the weekly 'chew the fat' session and over a cuppa it became clear that the Armidale team has a strong sense of mateship; creating a working environment where everyone was welcome to have a chat and speak their mind.
Examples of this community culture cropped up again and again throughout the tour. From the staff lounge in Narrabri to the break rooms at iconic Parkes or the warm reception at Myall Vale; that great sense of a collegiate community – working together to get the job done and taking care of one another – was in rich display.
These are the sort of values are what drew me to the CSIRO Staff Association and it's refreshing and reaffirming to see our members demonstrating this in practice.
Hard bargain
Michael and I spent much of our time explaining the latest, rapid developments in the protracted enterprise agreement process. As these meetings progressed it became increasingly clear that Staff Associations members were very knowledgeable about the state of enterprise bargaining at CSIRO, often closely questioning both the content and context of our presentations.
I spent much of my time listening to the impacts of changing work conditions in rural areas, the effect of insecure work on members, their families and the communities they live in. The message was largely consistent; a renewed commitment to supporting CSIRO staff and research in regional sites is long overdue.
Big country, big science
Visiting these sites, it's impossible not to be impressed by the big achievements of publically funded science and research. Standing under the 64 meter Parkes radio telescope – largely hand made by Australian scientists and engineers, with fabrication and maintenance continued on site – you get a real sense of what the CSIRO is about.
The contribution of the Australian Astronomical Observatory at Coonabarabran is being showcased this week by the BBC and ABC through a ground breaking series of programs on astronomy and space science. The research effort at Myall Vale – such as that to produce better cotton in harsh climates – passes an impressive 75 year milestone this month.
The research done in these regional laboratories is unique, important and part of the great scientific tradition of understanding and exploration. I look forward to working with Staff Association members to secure the future of these New South Wales sites and allow them to better focus on the science they remain so dedicated to.
Lachlan McSpedden is the CSIRO Staff Association Organiser for New South Wales. A recent graduate in Geography and Philosophy from the Sydney University, his previous experience includes work with Unions NSW, the National Tertiary Education Union and the World Wildlife Federation.