Marshall upbeat on CSIRO collaboration, investment and staffing growth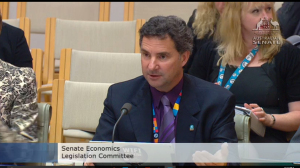 Chief Executive Dr Larry Marshall has hit the hustings, spruiking CSIRO's performance in greater collaboration, innovation, investment and – perhaps surprisingly – increased staffing growth.
The bullish forecast comes with the release of CSIRO's Annual Report, confident testimony at recent Senate Estimates and an upcoming appearance at the National Press Club where Dr Marshall has promised to "share some exciting news."
Innovation incubator
Dr Marshall stressed the importance of collaboration as a driver of innovation.
"Reflecting on this year, I think we've stood shoulder to shoulder with our partners as we forged stronger collaboration throughout the Australian innovation ecosystem," Dr Marshall said.
The innovation incubator ON was singled out for special mention, with Dr Marshall citing formal partnerships formed through the program with the Australian Nuclear Science and Technology Organisation, Defence Science and Technology Group, the Queensland Department of Agriculture and Fisheries, and 30 universities.
"ON has delivered profound public good opportunities, from emissions reductions through FutureFeed, to protecting the Great Barrier Reef from sedimentary runoff and saving water with Transpirational, to helping farmers manage climate variability through YieldProphet, just to name a few," Dr Marshall said.
Investment fund
Meanwhile CSIRO's $200 million Innovation Fund – a key feature of the Turnbull Government's National Innovation and Science Agenda – has announced an initial round of investments.
Renamed as Main Sequence Ventures and led by Dr Marshall's ex private sector colleague and venture capitalist Bill Bartee, the fund will support new start-ups, and Small to Medium Enterprises engaged in the translation of research generated in the Australian publicly funded research sector; such as through the ON incubator program.
"Australia's scientists are world leaders, but investing in science driven innovation is hard – it needs the horsepower of Australia's national science agency behind it," Dr Marshall said.
Main Sequence Ventures' first projects include support for Q-Ctrl, Intersective, Morse Micro and Maxwell MRI with the unspecified amount of fund investment expected to translate into 60 new jobs.
"Q-Ctrl has the potential to provide the firmware framework for quantum computers, Morse Micro is building the next generation of WiFi chip, Intersective is using data science to better equip our workers for the future and Maxwell MRI is changing the way we detect and diagnose prostate cancer," Mr Bartee said.
Jobs boost?
Despite the loss of more than 1 in 5 CSIRO jobs since 2013, Dr Marshall adopted a bullish approach on employment, citing staffing increases over the past two financial years.
"It's great to see the number of CSIRO people continuing last year's trend of growth – the first time we've achieved multi-year growth in people in a decade," Dr Marshall said.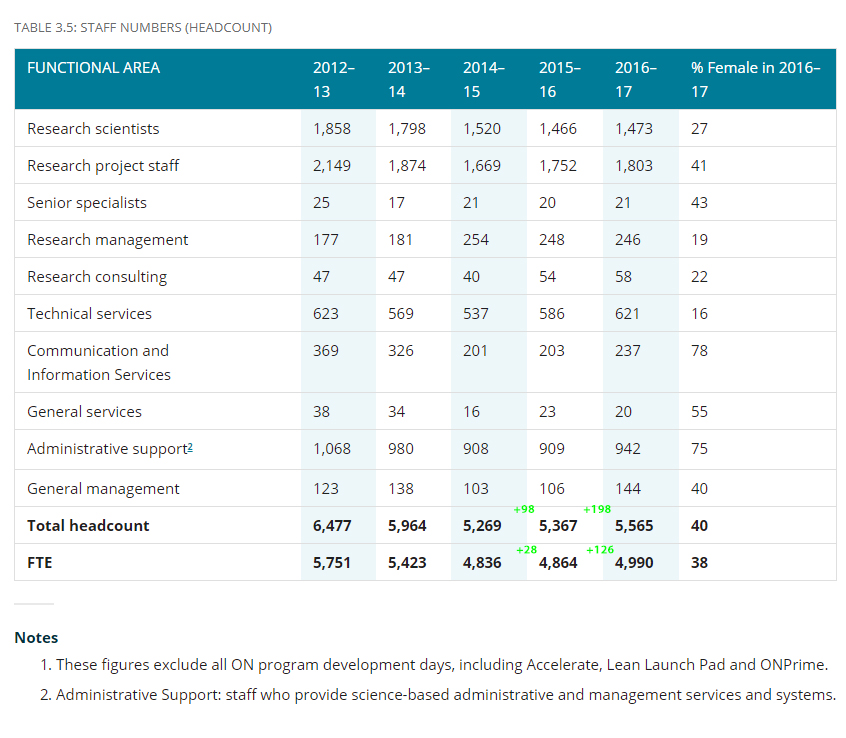 Source: CSIRO Annual Report 2016-17
"In fact, if we continue to deliver we'll earn growth that hasn't been seen in over 20 years," Dr Marshall said.
Overreach
Staff Association Secretary Sam Popovski says Dr Marshall's comments went too far.
"Most working scientists at CSIRO are simply trying to make ends meet with diminishing research budgets and higher targets.
"The worrying trend is that most of the staffing growth in CSIRO in the past two years has been in non-research functional areas. In 2014, research scientists made up 29 per cent of CSIRO's staff. This has fallen to 26 per cent in only two years."
"Staff deserve an explanation as to how CSIRO can become Australia's Innovation Catalyst by reducing its focus on scientific research," Mr Popovski said.
Related content