Marshall champions CSIRO and Australian science at National Press Club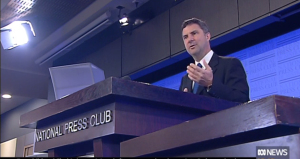 Chief Executive Dr Larry Marshall provided an upbeat assessment of CSIRO's future in an assured and confident address to the National Press Club in Canberra, showcasing a range of the organisation's research while announcing a break through in carbon fibre manufacturing.
In his first nationally televised address since taking the reins at CSIRO, Dr Marshall encouraged the audience to "come back to science, to feel optimistic about our future, and… get a glimpse of these ephemeral 'jobs of the future' we keep hearing about."
The Innovation Thing
Dr Marshall acknowledged that Australian innovation had been on the slide in recent years, especially "since the Global Financial Crisis, making us no longer an innovation leader, but an innovation follower."
"Innovation has become synonymous with automation – which in turn has become synonymous with up to 40 per cent of jobs being lost – not just for us but for our children," Dr Marshall said.
However the CSIRO Chief Executive was quick to remind the luncheon set that periods of disruption were not an uncommon feature of the Australian story.
"CSIRO isn't changing because science has changed but because in times of change it's easy to forget that we've been here before. We've been disrupted. We've closed down old industries and we've created new ones.
"And the answers weren't always obvious, but we knew where to start looking," Dr Marshall said.
CSIRO track record
Reeling off a list of CSIRO's greatest hits, Dr Marshall highlighted some of the better-known breakthroughs that the nation interacts with daily.
"Australian science is in your cotton shirt, and in your wool suit, and in the permanent pleat. It's the polymer bank notes in your wallet, and the wireless in your phone.
"You're seeing the world through extended wear contact lenses, watching an ultrasound image of a baby yet to be born – and when they are, they'll be wrapped in a wool blanket washed in Softly," Dr Marshall said.
ON accelerator
Dr Marshall outlined the achievements of CSIRO's innovation accelerator and incubator program – ON – partially funded through the Federal Government National Innovation and Science Agenda.
"ON teaches Australian scientists how to build a bridge from lab bench to customer. It's designed to take the best ideas from the whole Australian research sector out into market, speeding up their ability to make a difference in people's lives.
"More than 200 teams, from 30 institutions, have taken their benchtop breakthroughs to beta concepts. ON brings the entire research sector closer to Australian industry – aiming squarely at our ranking as one of the lowest collaborating nations in the OECD."
Dr Marshall cited three examples of the programs success including; Transpirational (a polymer spray for soil to lock in moisture and fertiliser for crops, while reducing evaporation and nutrient run-off), FutureFeed (a low cost livestock feed supplement made from seaweed that reduces methane emissions) and ePat (facial recognition technology that identifies when non-verbal patients are in pain) with the latter already spun off, delivered to market and listed on the Australian Stock Exchange.
Carbon Fibre breakthrough
In addition to spruiking the initial investments made through the CSIRO Innovation Fund (now known as Main Sequence Ventures) Dr Marshall used the NPC address to announce a new breakthrough in home grown manufacture of carbon fibre.
"Carbon fibre is a next generation material, delivering ultra-low weight, superb stiffness, and high conductivity. It's being used in everything from bicycles and tennis rackets; to wind turbine blades; right through to my personal favourite: aviation and space."
"But, carbon fibre is only made by a handful of manufacturers around the world, each of whom hold their own secret, patented recipe.
"In partnership with Deakin University, CSIRO has cracked the carbon fibre code," Dr Marshall said.
"The CSIRO and Deakin team has taken the first step towards reinventing generations of new jobs in carbon fibre manufacturing here in Australia," noting that CSISO's Advanced Manufacturing Industry Roadmap "has mapped the path for carbon fibre in Australia over the coming years."
Related content