Public sector faces wage cut in real terms as inflation set to rise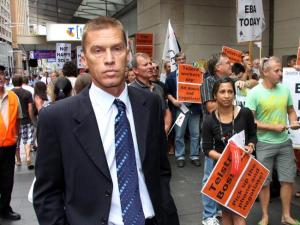 Rising costs of living are set to squeeze public servants' household budgets as wage rises fail to keep pace with growing inflation expected to bite next year, writes Doug Dingwell.
A NEW Department of Jobs and Small Business report showed that public sector workers securing new workplace deals in the September quarter will average 2 per cent in wage rises, a significant fall from 3 per cent the previous year.
Growth in public servant salaries under new agreements will struggle to keep pace with cost of living rises, turning wage increases into pay cuts in real terms as the government predicts inflation will climb from 1.9 per cent to 2.25 per cent next year.
The figures come following a multi-year industrial war over new enterprise agreements for public servants that reached an end on multiple fronts last year.
The Jobs and Small Business department used new workplace agreements at two of the government's largest agencies, Defence and the Australian Taxation Office, as well as Australia Post and the CSIRO, among others to estimate the average wage rises enshrined in industrial deals covering public servants until 2020.
Public and private sector wages rose at nearly an equal rate in deals reported in the June quarter, but the public service's average wage growth has fallen behind by a 0.4 per cent gap.
Community and Public Sector Union acting national secretary Michael Tull said the Coalition's public sector bargaining policy was to blame for the result after it capped wage rises at 2 per cent and targeted rights and conditions.
"The government's approach has cost public service workers and their families and hurt the whole economy," he said.
Mr Tull said the data hid the true extent of the pay cut because it didn't reveal damage caused by the government's wage freezes during bargaining.
"Commonwealth public sector workers whose new agreements are recorded in this report had their wages frozen for more than three years, so the reality is their pay rises amount to less than 1 per cent a year," he said.
"That means the wages of tens of thousands of Commonwealth public sector workers have gone backwards in real terms since the Coalition came to power."
A spokeswoman for new minister assisting for the public service, Kelly O'Dwyer, said the government's workplace bargaining policy provided competitive salaries that met community standards, and that its cap on wage rises was reasonable as the federal budget remained in deficit.
The Jobs and Small Business department figures did not simply reflect the workplace bargaining policy as it included wages data from all levels of the public sector – including local and state – across Australia, the spokeswoman said.
Mr Tull said most public servants providing services were paid average or below-average wages, but their pay rises under the latest round of deals were the worst on record.
"The Turnbull government should be leading by example to encourage the decent wages growth that's urgently needed for our economy and ordinary Australians currently suffering as their pay packets remain stagnant or go backwards, but they've instead made the problem even worse with wage freezes and other hardball industrial tactics."
Labor employment and workplace relations spokesman Brendan O'Connor said the wage rise figures showed that people were struggling to make ends meet.