CSIRO marks International Women's Day 2018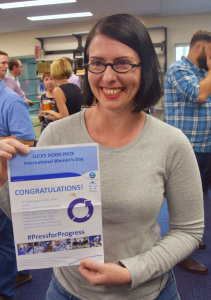 The CSIRO Staff Association has a long track record supporting women in science and CSIRO. From improving conditions, organising events and providing scholarships, the Association is proud to support the achievements of women in CSIRO.
However much more needs to be done to embrace gender diversity and achieve greater representation of women at all levels across the organisation.
In 2018, CSIRO joined the Staff Association in promoting a range of International Women's Day (IWD) events in workplaces across the country. Here's a handful of examples of how CSIRO staff marked the occasion.
Clayton, Victoria
An IWD afternoon tea with guest speakers was held at Clayton in the Ian Wark Theatre. Over one hundred staff attended. The event was MC'd by Gael Vanderven, and guest speakers included members Thuy Huynh and Nick Burke.
Townsville, Queensland
Fifteen CSIRO staff attended a special luncheon which featured a special cake for dessert. The event also included a raffle and a video on IWD.
Myall Lake, New South Wales
Staff listened to an inspirational presentation by Kelly Foran from Friendly Faces Helping Hands Foundation, a local charity that aims to link rural communities to the major hospitals, health facilities and resources in the cities.
Floreat Western Australia
Nearly 70 staff attended the Floreat event which also attracted staff from Kensington and Waterford. The guest speaker was Kathleen Patrick; a scientist with a varied background in traditionally male industries.