CSIRO chief Larry Marshall calls for Australian artificial intelligence 'moon shot'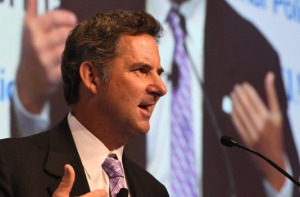 CSIRO chief executive Larry Marshall has called on businesses to stop taking cost savings from automation to the bank and instead reinvest them to create better business models, reports the Australian Financial Review.
The former Silicon Valley entrepreneur, who was appointed to the top job at the CSIRO in 2014, was talking at The Australian Financial Review Innovation Summit, and addressing growing concerns that artificial intelligence-led advances will decimate the workforce.
This article was originally published by The Australian Financial Review. 
"You can't save your way to success. In my opinion if companies aren't foresighted or keep cutting costs, shareholders will love it for a few quarters, but they're basically selling the future to buy today," Dr Marshall said.
"You can cut costs and lose people, or you can free up capital to invest in the future and do innovation. The example of … CSIRO helping BHP to create a mining robot years ago because it was the most hazardous thing for miners to be involved in and BHP quite wisely pulled the miners out of harm's way and redeployed them to manage the robots.
"They liberated capital, reduced risk, but chose to actively reinvent that liberated capital in a better business model."
Dr Marshall also pushed for increased government and industry investment into building artificial intelligence expertise to ensure the economy creates new jobs in the automation era.
"We can't hope to compete with the money being thrown at things like AI elsewhere in the world. We need to find our unfair advantage," he said.
"Investing in research into AI ensures Australia stays at the forefront of job creation in new industries, predicting and preparing for them before they emerge … We need to invest not just in the way we think about AI, but also invest in fuelling the minds which will unleash its potential in the future."
The speech came after the shadow minister for the digital economy Ed Husic announced Labor would spend $3 million on a centre of excellence to ensure Australia does not have to rely on the private sector to develop the technology.
Inspire the nation
Dr Marshall described AI development as a "moon shot" that Australia should be "reaching for … to create Society 5.0." and follows the Innovation and Science Australia 2030 report calling for Australia to invest in ambitious plans to inspire the nation.
Research from strategy advisory firm AlphaBeta has shown that Australian firms lag far behind their global counterparts when it comes to implementing automation technologies, including AI, with 50 per cent fewer Australian firms engaged in automation compared to leading countries such as the US and Sweden.
The study also found only 9 per cent of ASX-listed companies were making sustained investments in automation, compared with more than 20 per cent in the US.
Former Google Australia and New Zealand managing director and newly appointed Domain chief executive Jason Pellegrino said given the country's size, Australia would never be positioned to be competitive globally based on volume of investment into AI, so investing in human capital was paramount.
"From an Australian perspective we won't compete on volume, so we have to compete on quality. We need the best trained and most adaptable and resilient workforce out there," he said.
"That will put us on the global stage."
At the cutting edge
Dr Marshall agreed, saying the nation's size meant it would not be able to rival the investments being made by China and the US, but we needed to be able to recognise the areas where the country does have an unfair advantage.
"For me, the power of AI is to cut out years from a breeding cycle of a crop that otherwise would take hundreds of millions of dollars to figure out, and time to accelerate us to create something like producing canola from a plant rather than the ocean," he said.
Dr Marshall said CSIRO was "at the cutting edge" of applying AI to industries that would drive future employment. It is developing a range of new technologies using AI, including in agriculture, where gene-sequencing technology based on AI is being used to identify, isolate and improve grains.
It is also working with more than 30 utilities from around the world to help them use AI to identify where to make repairs to their infrastructure, to help them save some of the $1.4 billion a year Australian water utilities spend on maintenance.
CSIRO has also turned to AI in its health group, which is being deployed in emergency rooms to improving patient outcomes and saving millions for Queensland hospitals.
The start-up Baraja is also working in CSIRO's development lab to develop AI technology for self-driving cars.
He said the CSIRO innovation VC fund has made a joint investment with Boeing's VC fund, HorizonX Ventures, in the start-up Myriota, which is using satellite technology to gather vast amounts of big data from remote locations in industries like agriculture, environment and defence. The data will be used to train AI algorithms.
Ethics framework
In the coming months Dr Marshall said CSIRO would release a road map, being developed by its data unit Data61, on AI in Australia including an ethics framework for AI.
BHP chief people officer Athalie Williams said not everyone needed to be engineers, but everyone needed to be skilled in STEM.
"There is a lot more we need to do with industry, individual employers, government and education and individuals to come together and solve this from an ecosystem perspective," she said.
"There are education systems that aren't keeping track of what we need … we need to find everyone to build their level of capability in STEM-related and technology-related capability.
"There's a lot of money going into this today, we contribute $55 million in STEM-related projects and all the big corporates are doing similar initiatives, but when it's not joined up it's not having anywhere near the impact it could have."
Dr Marshall said he expected computers to replace at least 40 per cent of existing jobs "but CSIRO's experience is that by embracing disruptive digital technologies in our own research it has freed up our people to focus on things that deliver more value and this has led to broader growth".
He said he disagreed that coding was all kids will need to know in the future.
"What is most important is to instil our children with the ability to learn how to learn. That is the beauty of science. It teaches you how to tackle problems and gives you a toolkit to approach any problem," he said.
"The most important thing to remember, in the face of all of the hype, is that for machine-learning technology to work well it needs to 'learn' – and it is our role to help give this technology real intelligence."
This article was originally published by The Australian Financial Review.