Report from CSIRO Consultative Council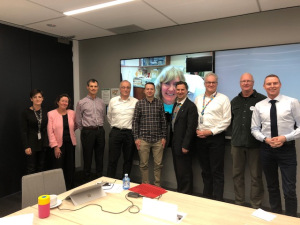 The CSIRO Consultative Council meeting with CEO Larry Marshall and Staff Association representatives held a month ago was constructive, but left a number of important issues on the table requiring further attention.
The Staff Association is working hard on these issues to make CSIRO Executive accountable and improve working conditions for members.
CBIS investigations
CSIRO Executive is yet to communicate to staff on the outcomes of investigations into the conduct of CBIS and other senior management.
The former Director of CBIS, Mark Wallis has left CSIRO, but staff and the Staff Association have not been informed of any outcomes from either internal investigations or inquiries undertaken by the Australian Federal Police. The Staff Association was advised that staff will be updated as soon as CSIRO Executive are able to make public comment.
Staff-elected member of the CSIRO Board
An overwhelming 82 per cent of Staff Association members have endorsed the proposal that the CSIRO Board should have a staff-elected member, similar to the ABC Board.
As this change requires legislative amendment, the Staff Association will proactively campaign on this policy position with all politicians ahead of the next Federal election. An appropriately independent CSIRO necessitates having staff voices at the top.
CSIRO 'siloes'
Much discussion occurred at Consultative Council on the problems caused by the siloed approaches of Business Units in CSIRO, including in science prioritisation, capability/workplace planning and restructure/redundancy processes. Corporate HR has agreed to participate in a series of workshops with Staff Association representatives to identify and propose solutions to these problems.
Fairness for postdocs
The Staff Association is working hard to raise inequities for postdocs in CSIRO, from access to support and development, through to CSIRO's treatment of international postdoctoral fellows.
For example, CSIRO's stance on sponsorship for permanent residency and managing visas is antiquated and opportunities for all postdocs to develop into CSOF Level 5 researchers are severely limited. The Staff Association will be campaigning for major change in this area so that CSIRO can again be considered a leader in the development of early career researchers.
Childcare and vacation care
CSIRO continues to be committed to onsite childcare at metropolitan sites like Clayton, Black Mountain and North Ryde, but regional sites have never been considered in the same way.
At Consultative Council, the Staff Association submitted that a pilot for assessing the feasibility of onsite childcare at Myall Vale, a landmark regional site, should occur. CSIRO HR and organisational development are yet to agree to this, but have offered to assess the feasibility of providing vacation care at the site. Staff Association delegates and members at Myall Vale are dedicated to pursuing these initiatives in coming months.