Cathy Foley to lead CSIRO scientists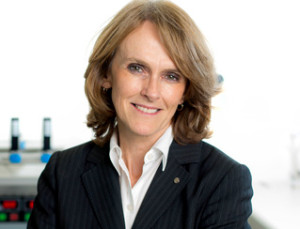 Cathy Foley has had a career full of "firsts" as a woman in the male-dominated world of science.
She appeared in her late 20s in a video about women in the sector after joining the CSIRO 33 years ago, and has pushed for greater female participation since.
Following her latest appointment as chief scientist at Australia's federal scientific agency, she'll advocate more diversity in the industry, a necessary ingredient to solving the mysteries it unpicks.
"If we limit that, we're just not going to get to where we need to go," she said.
This article was written by Doug Dingwall and first published by Fairfax Media. 
Dr Foley,  a world-renowned physicist and science leader, is most noted for her work developing superconducting devices and systems that have helped unearth more than $6 billion in minerals around the world.
However she has watched with frustration as Australia's science sector has remained fragmented and locked in interstate, and inter-university, competition. The chief scientist's job, when it came up, offered a chance to change things.
"Just like anyone, I want to get in there and see what I can do to make a difference," she said.
Among Dr Foley's goals in her new job, which she starts later in 2018, is coordinating the different players in Australia's science sector so they better understand each other's work.
She also wants Australia's scientists to direct their energy towards competing globally, and collaborating locally.
"Australia's future prosperity will be fuelled by science," Dr Foley said.
"Science which creates new industries, new jobs and shapes the minds and aspirations of our future leaders.
"We can't keep thinking about science as something which is locked away in a lab. It connects and drives everything we touch and do.
"I'm looking forward to not just spreading the word, but helping shape the science agenda and raising the profile of the role of women in STEM."
Science, and particularly physical sciences, is traditionally male-dominated and some physics conferences are composed only 9-15 per cent by women. Dr Foley's own research team, looking at superconducting electronics, has a 50:50 ratio of males to females, a result that could be down to the settings she has created.
"If you have the culture right, women will come and join, and stay."
Recent years have seen a particular shift as more women work in science. Dr Foley isn't the CSIRO's first female chief scientist, but she has been a trailblazer more than she would have liked.
"Science is set up in a certain way that doesn't make it easy," Dr Foley said.
She joined the CSIRO division of applied physics in 1985 as a national research fellow, and was promoted to senior research scientist in 1991, principal research scientist in 1996, senior principal research scientist in 2000 and chief research scientist in 2008.
Dr Foley, who is based in Sydney, helped create LANDTEM, a technology which uses superconductors to detect minerals deep underground.
CSIRO chief executive Larry Marshall said Dr Foley was an incredible leader and scientist.
"Cathy is a great contributor, with a passion for turning excellent science into powerful solutions for Australia," he said.
This article was written by Doug Dingwall and first published by Fairfax Media.