Men's Health the focus at CSIRO Clayton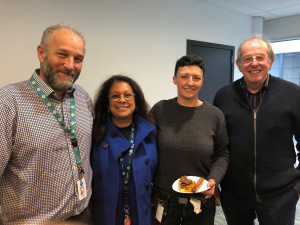 Staff Association delegates at CSIRO Clayton have marked Men's Health week with a successful half day seminar which focussed on the themes of mental health, physical wellbeing, family violence and support services.
Special guests included Professor Dragan Ilic from Monash University, Greg White from Beyond Blue and Workplace Wellbeing Specialist Rae Bonney.
CSIRO Staff Association delegate and Principal Research Scientist Mark Bown said the success of the event exceeded expectations.
Great turnout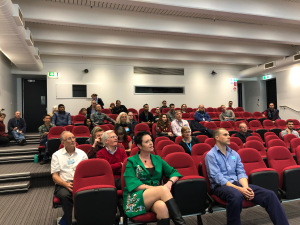 "This is the second year we have held a Men's Health Week event at CSIRO Clayton and we estimate around eighty staff participated, more than double the number who took part in 2018," Mark said.
Joining Mark in helping to organise the event was fellow delegate Dylan Marley and Staff Association members Andrea Gery, Roger Mulder, and Gary Savage; with support from delegate Nick Burke, Deputy President Melissa Skidmore and organiser Louise Jarman.
"My thanks to the members of the organising team, everyone worked very hard over several months," Mark said.
"All that dedication paid off with an event that brought together some amazing assembly speakers, with a broad range of knowledge and expertise related to Men's Health."
Serious focus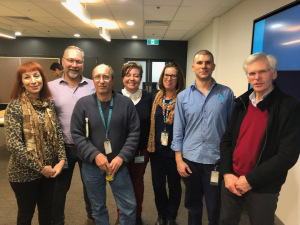 The decision to focus on the issue of domestic and family violence was deliberate, Mark said.
"It's not an easy topic for men to face up to. Despite the difficulty it's absolutely necessary and we wanted to make it a special theme for this year's event."
All staff at Clayton were welcome to attend and organisers estimate that women made up a quarter of attendees.
CSIRO co-sponsored the event and along with the Staff Association provided morning tea and lunch for participants.
The organising team – which received an incredibly positive response from attendees – recently conducted a short participant survey, Mark said.
Looking forward
"We're going to use the survey results to improve and inform planning for the 2020 event," Mark said.
"Suggestions included covering the established avenues available for men to seek help as well as networking and positive activities to encourage mental health for both men and parents raising boys.
"While mental health is acknowledged as an important standing topic focus, there seems to be an appetite for more information on general health, nutrition and physical fitness.
"Cardiovascular health and the role of men as carers have also been identified as potential themes for next year's event," Mark said.