Get an ABN, CSIRO tells budding scientists to get around staff cap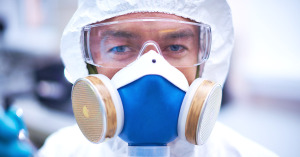 The CSIRO has been forced to tell Australia's next generation of scientists to get an ABN, as it tries to skirt around the public service staffing cap by hiring new talent as external contractors.
The CSIRO Staff Association has taken the extraordinary step of asking a parliamentary committee to force its executives to provide evidence about the extent of the use of external contractors, consultants and labour hire staff.
It has warned the 5193-person cap on permanent staff is severely undermining the national science agency's mission.
The average staffing level (ASL) cap was introduced in 2015 to keep the size of the Australian public service at or below 2006 levels.
It did not begin to bite until the agency's funding stabilised last year, as the CSIRO had already lost one in five jobs when the axe swung in 2014.
The staff association – which is a section of the Community and Public Sector Union – said the Department of Finance told the CSIRO executive the agency was now on track to exceed the cap, and it would be strictly enforced.
While the executive have denied a recruitment freeze is in place, it had conceded staff recruitment for 170 of the total 250 open jobs had been placed on hold.
Meanwhile, the agency appears to have ramped up its outsourcing of work to external contractors and consultants.
An analysis of the CSIRO's annual financial statements heading back to 2012-13 shows while staff costs have fallen, payments for services has risen.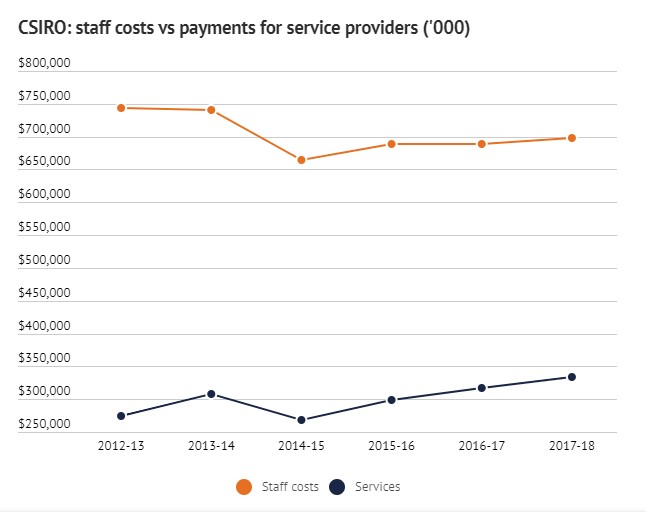 The agency changed its budget statements in 2015, to make its spend on external service providers more opaque. It also stopped publishing its annual spend on consultancies entirely in 2017-18.
But the interim results of a staff survey have also shown increased use or consideration of external contractors in seven of eight business units due to the cap.
Staff have warned the cap was blowing budgets and putting major projects at risk.
A researcher in Canberra quoted in the association's submission said the inability to hire casual staff was causing cost overruns.
"We're about to let all our casuals go putting major projects at risk. We're also outsourcing (at great expense) tasks to contractors because we cannot hire," the researcher said.
The Australian Cotton Research Institute – which is carrying out studies in drought-afflicted northern NSW – has been left unable to replace researchers who have moved on.
It has also been forced to draw on labour hire companies to find temporary staff.
"This is more expensive for CSIRO, and the workers get less money and rights," a staff member said.
And the inflexibility of the cap meant work was drying up in places that have been hit hardest by lack of rain.
"The job cap is bad for Narrabri because we can't employ local people in a drought-stricken area on fair wages," the staff member said.
The association pointed to an "emerging practice" where students – who might otherwise be employed as casual or fixed term employees – were being encouraged to set up as business operators to avoid the cap.
A researcher from Brisbane said they were considering that option for a student researcher they wanted to keep on.
"We have been hoping to engage this student in the last six months of her degree to continue development on a project started in an internship that is providing a measurable impact, and to keep her interest in CSIRO as a future workplace," the researcher said.
"We are currently being told that casuals are to be cut with the ASL – including this student. We now have three options – a) cut the effort b) ask the student to work for free c) ask the student to set up a business and we contract them externally.
"Option c) looks likely the most viable but highlights the absurdity of the ASL – how can we be expected to build intellectual property without capability and what risks do we run in losing those ideas when we externally contract to solve shortfalls in our internal resources?"
A CSIRO spokeswoman would not comment on the issues raised, beyond issuing a broad statement.
"Like all government agencies, the CSIRO manages resourcing within an average staffing level cap. We employ a range of resourcing options in order to do this aimed at ensuring we continue to deliver against our core capability and expertise," she said.
However, Finance Minister Mathias Cormann said the caps were not fixed or arbitrary, and the government wanted to strike the right balance.
"Where appropriate, the use of contractors is an efficient way to keep the overall cost of government administration low when the business need to access relevant skills and expertise is temporary, or particular expertise is more efficiently obtained and maintained in a dedicated private sector business," he said.
"Where a portfolio seeks additional resources, the government considers those proposals on their unique merits to assess whether ASL is the most appropriate way to tap human talent. In making decisions on staffing proposals, the government can take into account factors such as non-tax revenue opportunities, for instance from commercial ventures.
"This approach to setting ASL ensures that each agency has as much staff as they need for their responsibilities, but no more than necessary."