CSIRO Executive failed to seek staffing cap relief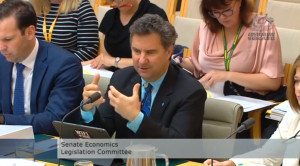 CSIRO Chief Larry Marshall used a Senate Estimates appearance to admit that the organisation had yet to make an application to the Federal Government for relief from Average Staffing Level (ASL) restrictions.
In response to questions on whether CSIRO had sought an exemption Dr Marshall said that "we haven't yet sought a formal exemption to that (ASL offset) rule but of course we've been discussing with the Department of Finance to get advice."
Still undecided
Chief Operating Officer Judi Zeilke said the organisation was still weighing up making a formal request.
"The process is to actually put together a proposal and apply to the Minister for Finance through our own (Science) Minister in that regard… to date we've been managing (ASL cap restrictions) within the portfolio arrangements and giving consideration to whether we should actually apply for an exemption going forward."
"Dealing with this change for us at the moment is new. But, obviously, the ASL estimate has been around for many years. This is new in us responding to it at the moment. Anecdotally, we don't see it as making a huge difference at this stage," Ms Zeilke said.
Staff Association Secretary Sam Popovski has urgently called on Dr Marshall to apply for an exception to the cap, at the very least for the work done in CSIRO that is not funded through Government appropriation.
Lost opportunities
"Concerns over the impact of the ASL cap where first raised formally with CSIRO Executive by Staff Association representatives at the Consultative Council meeting almost twelve months ago.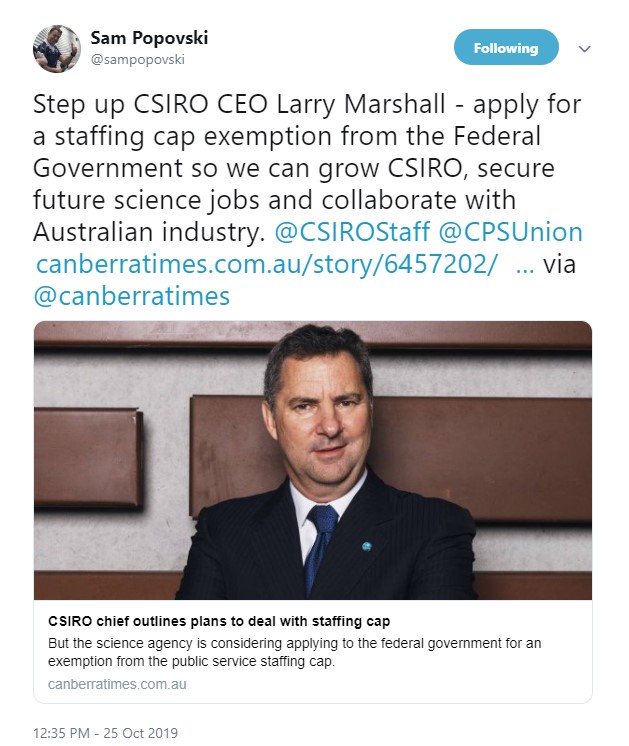 "In a December 2018 letter in response to Staff Association concerns, Dr Marshall said 'ASL is managed at the Department Portfolio level and I am working with the Department (of Industry and Science) to make sure we continue to deliver on our commitments and strategy.'"
"Fast forward to now – after all that time, multiple warnings, despite clear evidence of the impact of the staffing cap on CSIRO jobs and research – Dr Marshall admits he still hasn't decided to ask the Government for an exemption. It's not good enough," Mr Popovski said.
Controversial comments
During the hearing, Dr Marshall sought to reassure staff in comments that have angered Postdocs and other sections of the CSIRO workforce.
"For the 5,500 CSIRO staff who maybe listening tonight, as we've told them personally, there's no redundancy plan. There's no big reduction plan or anything like that. Because we're such a large organisation there is a natural turnover – term contracts end, people leave, or they get extended.
"We also have a lot of students that work in CSIRO and, we think of them as interns but the technical name for them is, Postdocs.
"These are kids that have just graduated, and they come into CSIRO to actually work on an industry project so that they're more employable by industry. They tend to cycle through as well."
Sanguine approach
Dr Marshall went on to intimate that staff concerns on the impact of the cap at CSIRO might be misplaced.
"There's absolutely a perception in the minds of our people – again, because the ASL cap is a very new concept for most of us in CSIRO – that it's like a roadblock. I think, in practice, it's nowhere near the impediment that it might seem.
"But it absolutely is a perceived impediment, and that's why we're putting out things like this to try and get the facts on the table, so people don't worry about it so much and focus on continuing to deliver benefit for Australia."
Related media