The federal budget received a mixed reception from key groups representing Australia's science, research and technology industries; with praise for new spending measures tempered by disappointment due to a lack of investment in basic research and inadequate support for the struggling university sector.
Public sector research
While CSIRO missed out on any direct new spending measures, there was increased funding for both the Bureau of Metrology (BOM) and the Australian Nuclear Science and Technology Organisation (ANSTO).
BOM will receive $24.8 million in 2021-22 to maintain meteorological services and ANSTO is set to get $116.7 million over the forward estimates – for increased waste storage capacity and infrastructure – plus an additional $14.2 million per year ongoing operations.
The Australian Space Agency will be provided $13.3 million over four years (and $3.3 million per year ongoing) to increase regulatory and technical advisory capacity and support the growth of the industry.
The Government will spend $387.2 million over ten years to construct and operate the Square Kilometre Array (SKA) Observatory, including a new computing and data management capability to manage SKA data.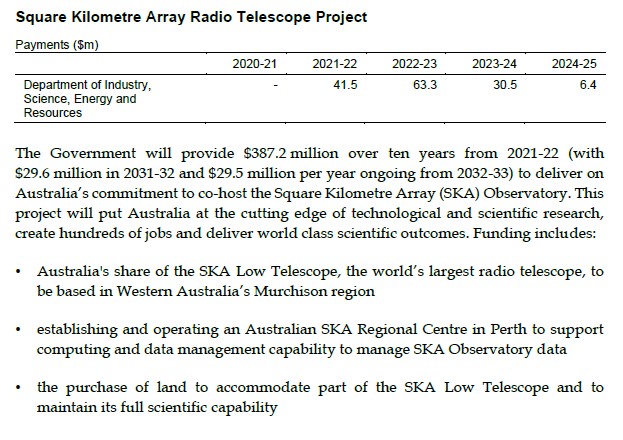 Additional measures
"This future-focused Budget charts a path to develop the workforce Australia will need to seize opportunities in next-generation technologies," said Science and Technology Australia (STA) President Associate Professor Jeremy Brownlie.
The Government will introduce a 'patent box' tax regime – initially applicable to medical and biotechnology patents but with the potential to be extended to clean energy innovations – by taxing corporate income derived from patents at a concessional effective corporate tax rate of 17 per cent, expected to cost $206.4 million to the budget bottom line over the estimates.
Plans to develop a local mRNA manufacturing capability were also announced but the Government declined to provide details on the cost of the venture, citing commercial in confidence.
Vaccine capacity
"We welcome the commitment to develop an Australian mRNA manufacturing capability to fight COVID-19, the flu and future pandemics," Australian Academy of Science (AAS) President Professor John Shine said.
"The Academy is pleased the Government has heeded our advice to future-proof Australia with the development of such a capability.
"Developing the capability will allow Australia to build resilience to future pandemics and potential biosecurity threats that require us to have the onshore capacity to mass produce vaccines."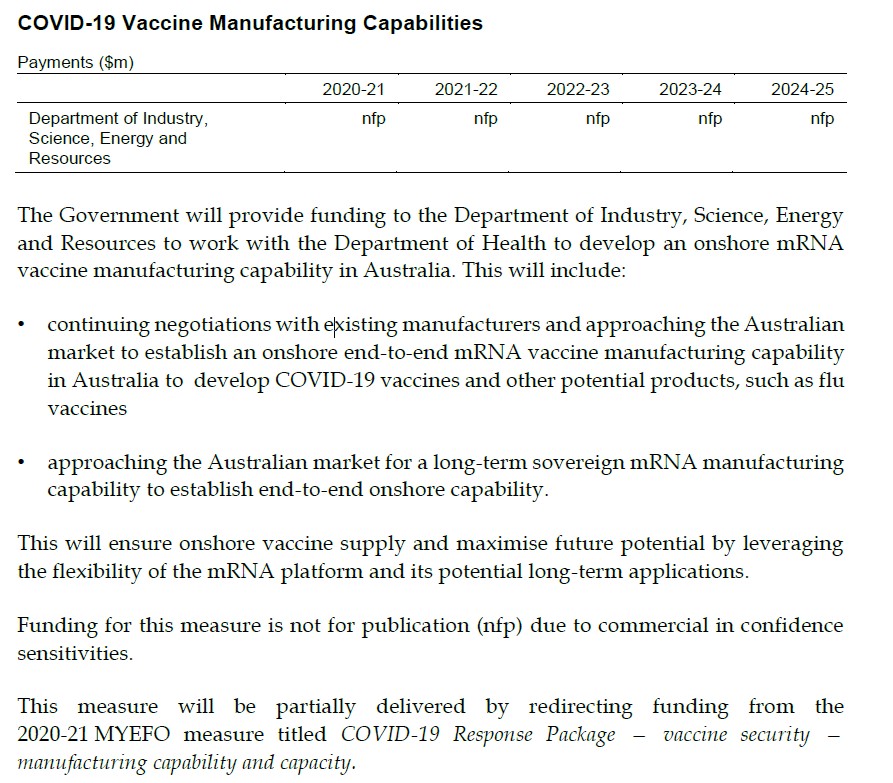 Research pressure
The lack of new funding for fundamental research was noted by the Academy.
"It is important for Australia's future to ensure we have strong investment in basic research to be able to translate discoveries," Professor Shine said.
"The Budget contains no significant new funding for fundamental discovery science and no initiatives to stem the loss of university science jobs."
Universities miss out
Last October's $1 billion bailout for university science and research was not renewed, sparking criticism from the National Tertiary Education Union (NTEU) which called for a continuation of the funding.
"Where is the rescue package for higher education, our fourth largest export sector which has lost over 17,300 jobs and thousands of courses after being locked out of JobKeeper? Where is the pathway for the return of international students?" asked NTEU National President Dr Alison Barnes.
The continued absence of international students – with the budget drafted under assumptions that Australia's borders will remain shut until mid-2022 – has rung alarm bells across the sector.
"We took a $1.8 billion revenue hit last year. Universities Australia conservatively estimates at least another $2 billion will be lost this year – against 2019 actual operating revenue," Universities Australia's Chief Executive Catriona Jackson said.
"With assumptions around borders being shut until mid-2022 now baked into the Budget, the picture for universities will get worse. There will be significant flow-on effects for the nation's research capacity and jobs inside and outside universities."
Digital economy
The Government announced a $1.2 billion, six-year Digital Economy Strategy to 'support Australia to be a leading digital economy and society by 2030.'
A series of measures to enhance Australia's Artificial Intelligence (AI) capability tallied up to $124.2 million and while Data61 is expected to coordinate the strategy, the budget papers provided no mention of CSIRO's involvement.
$200 million – including $54 million in capital funding – will be provided to develop and transition government services to a new, enhanced myGov platform.
The My Health Record system will receive $421.6 million (plus $38.7 million in capital funding) which comprises funding for the Australian Digital Health Agency, including for the Intergovernmental Agreement on National Digital Health.
Yet resourcing for the Digital Transformation Agency (DTA) will reduce by about $90 million over the next year and the average staff numbers will drop from 255 this financial year to 227 staff in 2021-22.
Related content