CSIRO researchers to share in $730m from cancer drug sale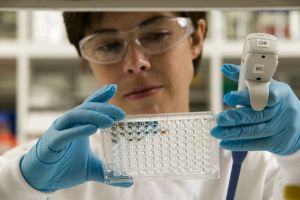 A group of Australia's top cancer research organisations including CSIRO will share in a $730 million licensing deal of a promising cancer therapy drug sold to US pharmaceutical company Merck.
Cancer Therapeutics CRC's Australian research partners including CSIRO, Monash University, Peter MacCallum Cancer Centre and the Walter and Eliza Hall Institute will take the majority of the funds, while Merck works on further development, clinical trials and potentially future worldwide release to the public.
CSIRO and its Australian partners will take the lion's share of the licensing deal funds for the drug, which inhibits the movement of protein PRMT5, which is associated with cancers of the lung and breast as well as lymphoma, colorectal cancer and a range of non-cancer blood disorders.
According to CSIRO scientist Dr Tom Peat, "patients who have these types of cancers often have high levels of this protein, which is unfortunately also linked to poor survival rates. The CTx consortium was able to develop a drug that binds to this protein, allowing it to target the cancerous cells." The same inhibitor drug also promotes the switching on of important genes in blood, which may help fighting diseases like sickle cell.
Merck, which is one of the largest pharmaceutical companies in the world, will develop the protein inhibitor further and, after hopefully successful clinical trials, will release it for widespread use around the world.
The CTx group will share the licensing royalties with the Wellcome Trust and Cancer Research Technology in the UK. The announcement cements this cancer drug as one of CSIRO's many Australian innovation successes, alongside Wi-Fi, the plastic banknote, and Aerogard insect repellent.
This article was originally posted by Gizmodo Australia as Australian Researchers Share In $730 Million From Cancer Drug Sale To US Pharma Giant.