The need to value CSIRO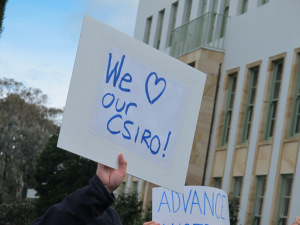 With enterprise bargaining crippled by a hostile Government, 1 in 5 jobs lost from the organistation in two years, and the future of public good science under threat – it's time to fight for and value CSIRO.
We need to value our workers and value our science.
The Value Principles
Stop cuts to public science
Public science is for the public good. Government cuts to CSIRO are doing untold damage to Australia. Critical research is being halted into climate science, biodiversity, urban water, Alzheimer's disease, cancer research, geothermal energy and liquid fuels. Science at CSIRO should not be used purely for profiteering. It belongs to all of us.
Science is of great value to the public.
Suspend all job losses
We call on CEO Larry Marshall and the Turnbull Government to suspend all job losses and not implement any proposed changes until consultation occurs. CSIRO staff must be provided with a genuine opportunity to influence the decision makers.
It's time to value CSIRO staff
Enforce our rights
As a collective we will stand strong to defend our rights and conditions. We will ensure that our current Enterprise Agreement is protected and enforce our rights to consultation and conditions to protect jobs.
We value our rights and conditions.
Make the Chief Executive accountable
Bad decisions are being made by the Chief Executive and the Executive team. CSIRO's reputation is suffering. CSIRO's Executive must be held to account by staff and the Australian and international science communities.
Let's continue to value CSIRO.
What Staff Association members can do now
Distribute the Value flyer in your workplace
Like the Support CSIRO Facebook page http://www.facebook.com/supportCSIRO
Use #supportCSIRO on your personal Facebook or Twitter
Sign the Proud To Be Public petition on supportCSIRO.org.au
Talk to your colleagues in the workplace about why this is important
Wear your #supportCSIRO t-shirt in your workplace and in public

Don't yet have a #supportCSIRO t-shirt? Contact us at

[email protected]

and we'll get back to you.