Labor steps up to repair CSIRO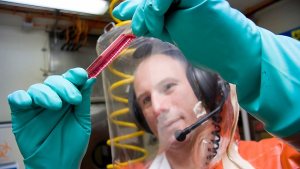 The CPSU and CSIRO Staff Association have warmly welcomed Labor's CSIRO funding announcement as an important and positive step toward restoring the damage done by Turnbull Government cuts.
Labor has committed to investing $250 million in CSIRO to ensure the future of key national scientific infrastructure like "The Dish" at Parkes and the RV Investigator, as well as the $50 million it had already committed to help CSIRO to protect the Great Barrier Reef.
In a joint press statement, Opposition Leader Bill Shorten and Science spokesperson Senator Kim Carr committed "a Shorten Labor Government (to) restore CSIRO's capacity to drive the national science, research and innovation agenda that will grow new industries and build a smarter Australia."
CPSU National Secretary Nadine Flood welcomed Labor's policy.
"CSIRO staff are dedicated to research that delivers economic dividends, contributes to the public good and protects the country we all share," Ms Flood said.
"Many Australians have been dismayed by the Coalition Government's cuts to science and research and can't understand how Malcolm Turnbull can be pro-innovation but anti-CSIRO.
Related content 
Recent media 
Stark contrast 
"Labor's announcement is great news for all Australians and stands in stark contrast to the Turnbull Government's appalling record on the CSIRO, which has seen 1400 jobs cut and vital research abandoned on critical issues such as climate change, Alzheimer's disease and bowel cancer.
"The fact that there are 275 researchers and scientists expecting to be made redundant in a matter of days, including many forced sackings, highlights just how wrong the Turnbull Government is on this vital issue.
"CSIRO union members and many others in the community have been campaigning hard against the Turnbull Government cuts to public sector science and research and we warmly welcome this news.
"We are urging all Australians who care about the future of science and innovation to use their vote on 2 July to save CSIRO by putting the Liberals last," Ms Flood said.
Rebuilding confidence 
CSIRO Staff Association Secretary Sam Popovski also welcomed the announcement.
"Labor's commitment to repair CSIRO funding will help save research jobs and protect the nation's scientific infrastructure," he said.
"This investment in CSIRO will help rebuild confidence in an organisation that has been damaged by senseless cuts to jobs and research under Tony Abbott and Malcolm Turnbull.
"It means that CSIRO scientists can now get on with what they do best – coming up with smart solutions for Australia's future – instead of worrying about if they'll still have a job at the end of the month.
"CSIRO's stellar track record in research and innovation is justly world famous. Every time a person uses a smartphone or handles modern-day currency, a scientific breakthrough pioneered by CSIRO is at work.
"By repairing the Coalition budget cuts to CSIRO, Labor will help ensure the next generation of innovation, which will help grow jobs, keep local industries competitive, protect Australia's environment and help the global community better understand our world," Mr Popovski said.
Additional comment