Newcastle staff welcome Labor promise to fund science and public services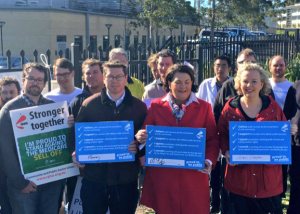 Local scientists met with Hunter Labor Candidates at the CSIRO Energy Center in Newcastle to discuss the regional impacts of Labor's announcement of an additional $300 million in CSIRO funding over next four years.
Staff Association members used their break time to meet with Sharon Claydon MP (Newcastle), Pat Conroy (Charlton) and Meryl Swanson (Labor candidate for Paterson).
The ALP has promised to invest $250 million in CSIRO to ensure the future of key national scientific infrastructure such as "The Dish" at Parkes and the RV Investigator, as well as the $50 million it had already committed to help CSIRO to protect the Great Barrier Reef.
Opposition Leader Bill Shorten and Science spokesperson Senator Kim Carr recently committed "a Shorten Labor Government (to) restore CSIRO's capacity to drive the national science, research and innovation agenda that will grow new industries and build a smarter Australia."
CSIRO Staff Association Secretary Sam Popovski has welcomed the announcement.
"Labor's commitment to repair CSIRO funding will help save research jobs and protect the nation's scientific infrastructure, much of it based in regional areas" he said.
"CSIRO's agricultural science has kept Australian farmers at the cutting edge of productivity and crop technology, supporting Australian grain, fibre and meat export industries.
"By repairing the Coalition budget cuts to CSIRO, Labor will help ensure the next generation of innovation in our regions, which will help grow jobs and keep local industries competitive," Mr Popovski said.