Staff Association, CPSU helps save ARENA funding and prevent CSIRO cuts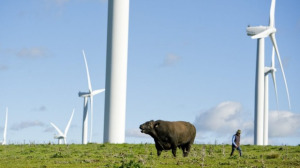 A broad campaign including CSIRO Staff Association, CPSU and a range of community and environmental groups has persuaded the Government and Labor Opposition to maintain $800 million in funding for the Australian Renewable Energy Agency (ARENA) over the next four years.
As part of the Coalition's Government's budget savings measures, the Omnibus Bill 2016 proposed a $1.3 billion cut to ARENA; a key funding body for CSIRO renewable energy research. The omnibus bill would have cut all of ARENA's funding and effectively ended its role as the cornerstone of Australia's renewable energy program.
"The flow on effect of these cuts would have drastically impacted the pipeline of CSIRO's renewable energy projects within the Energy, Manufacturing and Oceans and Atmosphere Business Units," said Staff Association Secretary Sam Popovski.
With the proposed Bill imminent in Parliament, Staff Association members and delegates worked hard to persuade federal politicians that the proposed cuts would have a huge impact on research and job opportunities at CSIRO and that ARENA should retain funding.
Union, community and environmental movement bands together
The Staff Association and CPSU worked with a broad coalition of environment and community groups, including the Australian Youth Climate Coalition (AYCC), Friends of CSIRO, Labor Environment Action Network, Solar Citizens and 'Getup!'.
"We highlighted our members' concerns with the Coalition's proposal and also called on the Labor opposition to support an amendment to the legislation which would maintain ARENA funding," Mr Popovski said.
Both the Greens and Nick Xenophon Team had indicated their opposition to cuts to ARENA.
The Staff Association and CPSU wrote a joint submission to the Senate inquiry into the Omnibus Bill, and sent a delegation this week to meet key Members of Parliament to raise members' concerns.
Lobbying effort pays off
"Today Labor announced a proposed amendment to the budget savings measures, which includes continued funding to ARENA of $800 million," Mr Popovski said.
"There is bi-partisan support for this amendment to the Omnibus Bill. This bi-partisan support provides more certainty to not only CSIRO, but also the broader renewable energy industry.
"This is a win for ARENA, CSIRO and our members. Thanks to the hard work of delegates and members working in parliament and with the community, we have worked to secure the future of renewable energy research within CSIRO and have ultimately prevented further job losses," Mr Popovski said.
Related content