Fair Work makes intervention at Border Force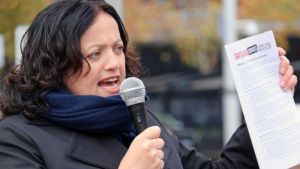 There's been a significant breach in the bargaining impasse between the Department of Immigration and Border Protection (DIBP) and their workforce.
A combination of industrial action by CPSU members and the union's legal strategy has led to Fair Work Commission (FWC) intervention that might break the deadlock.
Following tribunal hearings in Melbourne, the independent umpire has pulled stumps on the current agreement and sent both sides along the path to arbitration, which may have important ramifications for the Federal Government's controversial bargaining policy.
Borders management under pressure 
The move to arbitration follows a week of unprecedented strikes at airports, cruise ship terminals and cargo ports around Australia by DIBP staff, resulting in significant disruption. In a dispute that has now stretched almost three years, strikes at Airports and other DIBP workplaces have been running for over twelve months.
CPSU National Secretary Nadine Flood said that strong strike action by DIBP members had forced the Government to act after its unworkable bargaining policy ground negotiations to a halt.
"For three years CPSU members have taken a strong stand against the Turnbull Government's attack on pay and conditions and (represents) good news for Immigration and Border Protection staff because there is finally a light at the end of the bargaining tunnel.
Time for Government to act
"The fact that union members had to take this sort of action to bring the issue to a head is a searing indictment on the failure of the Turnbull Government to deal sensibly with workers' rights," Ms Flood said.
"Fair Work's decision sends a strong message to the Turnbull Government that its bargaining policy is broken" she said.
Ms Flood said the case may have implications across the rest of the APS where around 100,000 workers have been without new agreements for more than 1,000 days.
Senate Inquiry launched
Meanwhile, the Senate is set to turn up the political heat on by conducting an inquiry into the bargaining shambles. The Senate Standing Committee on Education and Employment will investigate the impacts of the stalled bargaining process on service provision as well as Australia's tourism industry and reputation.
Employment Minister Michaelia Cash is expected to be invited to testify along with senior bureaucrats and tourism industry chiefs whose operations were affected by 17 months of protected industrial action including repeated strikes at international airports.
"This is an important opportunity to find out why the government has blocked progress on bargaining for so long and why the Minister and the Public Service Commission have refused to find a sensible solution to (the) dispute," Ms Flood said.
"This is the first Australian government in thirty years which has been unable to conclude public sector bargaining and that has tried to starve workers into accepting cuts to family friendly and other rights and which has refused to sit down at the table and negotiate outcomes in good faith.
"We acknowledge the support of Labor, The Greens, Senator Lambie and the Nick Xenophon Team in voting for the inquiry. They recognise that this is a terrible situation for workers and their families but it's about much more than that. It's about whether we have strong public services into the future for the benefit of all Australians," Ms Flood said.