Vote No material mysteriously disappearing?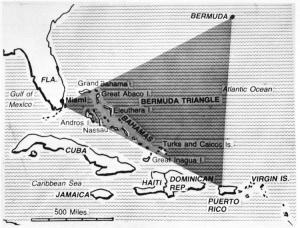 A strange phenomenon appears to be occurring in some CSIRO workplaces.
While management bargaining posters – encouraging a 'Yes' vote – are being plastered in all kinds of places; Staff Association material has been mysteriously disappearing overnight.
So what's going on?
Management message stokes controversy
CSIRO management's posters have sparked a rush of complaints to the Staff Association, most alleging the material seems to deliberately distort information regarding management's Enterprise Agreement (EA) offer.
In a poster titled 'CSIRO Enterprise Agreement 2016-2020' the material advises that by voting 'YES' a CSIRO staff member would 'keep all my existing EA entitlements.'
Staff Association Secretary Sam Popovski described the phrase as a clear distortion.
"It is the Staff Association's view that the use of the phrases 'keep all' and 'existing EA entitlements' distorts information and discussions that have occurred in negotiations between bargaining representatives and with staff throughout this lengthy process," Mr Popovski wrote in a letter to CSIRO Human Resources Policy Manager Clint Smith.
"Staff have expressed the view that CSIRO, at the highest level, should be demonstrating behaviours consistent with the Code of Conduct, in particular the obligation to 'act in good faith'. All staff have this obligation.
"Many staff believe that CSIRO Executive and Human Resources are failing to do so in regards to the information in this poster," Mr Popovski added.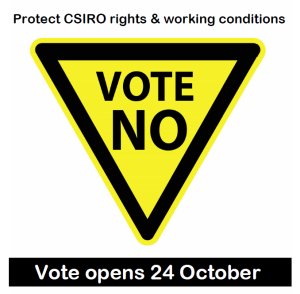 UPDATE: CSIRO Human Resources Policy Manager Clint Smith responded to the Staff Association's letter as follows:
"Hi Sam
Thank you for your email and letter.
There was certainly no intention to provide any information to staff that was not reflective of the current bargaining situation.   I do not accept any assertion or inference that the provision of the information in the poster is inconsistent with the Code of Conduct.
To ensure there is no confusion for staff, we have amended the information in the poster.
Regards
Clint"
Union material mysteriously disappearing
Meanwhile, some Staff Association members and delegates promoting the vote against management's offer have found themselves in the middle of a mystery. No sooner than 'Vote No' material has been distributed in the workplace, the same material somehow disappears.
Accounts received from workplaces report the same, mysterious phenomena. Every evening, after dark; strange forces appear to be at work with the aim of removing all material at odds with management's proposal that aims to strip the legal protections and workplace rights of CSIRO staff.
"It's a bemusing state of events," Mr Popovski said. "Staff Association material is disappearing, while management information is reproducing."
Time for staff to respond
Mr Popovski encouraged CSIRO staff to help solve the mystery and respond.
"Unfortunately we may never find out the mysterious sources for the phenomena, especially as it seems to be occurring in the dark hours of the night."
"However I encourage union delegates and members to keep putting up Staff Association material on notice boards and in the prominent and appropriate locations that CSIRO management is using for their own posters."
Useful resources 
Download a range of Vote No material by visiting our campaign page.