Staff achieve historic vote to protect CSIRO rights and working conditions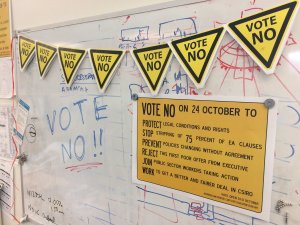 CSIRO Executive's controversial enterprise agreement proposal has been thoroughly rejected by a margin of more than 70 per cent.
Turnout was high, with more than three-quarters of staff (76 per cent) participating in the ballot. The Executive Team's proposal was designed to strip important conditions and rights from the legally protected enterprise agreement.
It is the first time in living memory that CSIRO staff have voted to reject a proposed agreement. The ballot was also the first occasion that CSIRO staff had an opportunity to vote since bargaining negotiations commenced in July 2014.
Clear message
"This strong result sends a clear message that CSIRO staff will not accept cuts to workplace conditions and rights. It's now up to the CSIRO Executive to genuinely listen to the views of staff and get a fair deal done," said Staff Association Secretary Sam Popovski.
"The Staff Association urges the Federal Government to withdraw the bargaining policy which remains the major obstacle to rebuilding morale and trust across CSIRO," Mr Popovski said.
Tribute to solidarity
Mr Popovski paid tribute to the dedication of Staff Association members, delegates and councillors.
"CSIRO staff have been resolute in their defence of working conditions and rights in this campaign. The ballot result is a tribute to solidarity during these very difficult times."
"The fight for a fair agreement has received its most important boost. Next week we'll be appearing before a Senate Committee that is reviewing the bargaining mess.
"The opportunity is now to fix this and we'll be making CSIRO Executive accountable to this clear decision of staff." Mr Popovski said.