New year brings a new Minister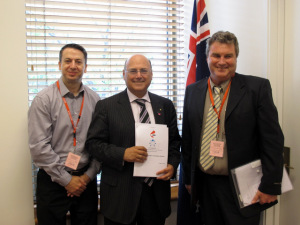 CSIRO has a new Minister with the announcement that Senator Arthur Sinodinos will take up the reins following the promotion of Greg Hunt to the Health and Sport portfolio.
A cabinet vacancy was created following the resignation of Sussan Ley in the wake of the latest parliamentary expenses scandal, prompting a minor ministerial reshuffle by Prime Minister Malcolm Turnbull.
The appointment of Senator Sinodinos represents the fourth time the innovation, Innovation and Science portfolio has changed hands in as many years. The former Treasury official and long-standing Chief of Staff to Prime Minister John Howard follows in the footsteps of Ian Macfarlane, Christopher Pyne and most recently, Greg Hunt.
The central role of CSIRO
Opportunities to "foster new industries and jobs" while maintaining " the sustainability of our environment and community" remained critically important, Staff Association Secretary Sam Popovski said in a letter to Senator Sinodinos.
Related content 
"CSIRO is at the centre of our innovation system. It can assist Australian industry and deliver practical solutions like no other organisation. However, CSIRO has experienced considerable setbacks in recent years with substantial funding reductions, job cuts and attacks on its research and scientific integrity.
"Despite this, CSIRO's outstanding researchers, the workers we represent, have continued to deliver innovations to benefit our country," Mr Popovski said.
Long-standing policy interest
In a statement following the announcement of his appointment, Senator Sinodinos described himself as "a strong supporter of Australian industry and jobs throughout my public life… I have a keen appreciation of the importance of innovation and science policies, including the role of national institutions such as CSIRO, in delivering economic growth and development."
The comments echo sentiments expressed in the Senator's first speech to the Australian Parliament in November 2011. "As the centre of gravity of global manufacturing is shifting to the Asia-Pacific region we have an opportunity to position Australian manufacturing in those regional supply chains. We need more commercialisation here of our own home-grown science and research, including technologies to exploit our alternative energy sources."
Positive signs for science funding
At a press conference at his alma mater the University of Newcastle, Senator Sinodinos indicated that the recent climate of cuts to CSIRO looked set to end with an assurance that science funding would increase.
"The CSIRO, for example, will have its spending going up, it will have more jobs at the end of the next three or four years than it has today," he said.
Mr Popovski welcomed the an opportunity to talk directly with the new Minister, following up on a previous meeting between the Senator and Staff Association representatives in March 2015.
"As the representative of CSIRO's staff, we have a forthright understanding of the issues that could be addressed by Government to enable CSIRO to prosper further.
"Staff morale continues to be very low, not only as a result of funding and job reductions, but due to the 30 month enterprise bargaining impasse under the Government's policy," Mr Popovski said.