Research infrastructure up for review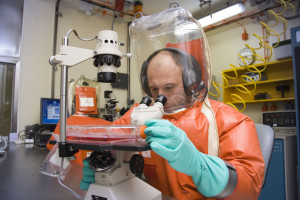 Australia's research infrastructure could be set for a shake-up with the Federal Government poised to consider a range of new measures that could have a significant impact on landmark facilities managed by CSIRO.
As part of the launch of National Innovation and Science Agenda (NISA) the Federal Government commissioned Chief Scientist Dr Alan Finkel to develop a National Research Infrastructure Roadmap. This process operated adjacently to an earlier 2015 review of Australia's research system led and completed by former Minter Ellison Chief Executive Philip Marcus Clark.
Both the Clark review and the Roadmap process have charted the range of Australian infrastructure currently funded by the National Collaborative Research Infrastructure Strategy (NCRIS), Publicly Funded Research Agencies (PRFAs) and in the context other initiatives such as Industry Growth Centres and the Medical Research Future Fund.
Related content
However the Roadmap seeks to draw a distinction between facilities managed and hosted within existing institutions -such as CSIRO – and focus on the resources needed to develop Australia's national, landmark and global research.
Research Roadamp
The report states that the "draft Roadmap sets out Australia's national research infrastructure focus areas for the coming decade."
Designed to broadly complement national research priorities, the nine focus areas are; "Digital data and eResearch platforms, Platforms for Humanities, Arts and Social Sciences (HASS), Characterisation, Advanced fabrication and manufacturing, Astronomy and advanced physics, Environmental systems, Biosecurity, Complex biology and Therapeutic development."
In addition to the creation of a independent advisory group and development of an investment plan, the draft Roadmap recommendations include noting that "existing landmark facilities" – such as CSIRO's Animal Health Laboratory and RV Investigator – "will require ongoing investment."
Landmark research infrastructure – HPC and AAHL
The Roadmap identifies two national facilities that "require urgent consideration." These are National High Performance Computing (HPC) and the Australian Animal Health Laboratory (AAHL).
Australia's existing HPC research facilities – National Computational Infrastructure (NCI) and the Pawsey Supercomputing Centre – are described by the Roadmap "as among the top 500 most powerful computers in the the world, but their positions are slipping" and that "the facilities and their users have indicated that significant upgrades are required to meet future computation and data needs."
The draft Roadmap recommends the upgrading and enhancement of NCI and Pawsey including possible integration of governance arrangements between the HPC facilities.
The Roadmap describes "AAHL is a unique national capability that needs to be upgraded to ensure compliance with regulatory requirements… AAHL must be able to handle infected livestock at Biosafety Level 4 (BSL4) standards. It houses an insectary where a variety of vector-borne diseases affecting humans and animals can be contained and studied."
Citing the "major threats" of pest and diseases – such as the Zika virus, dengue fever and drug resistant tuberculosis – the draft Roadmap calls for an enhancement of "capability in animal biosecurity to enable world's best practice, including AAHL."
CSIRO infrastructure
The Clark review mapped out the full and extensive range of existing infrastructure managed and or hosted by CSIRO. This includes National Collections (Algae, Fish, Herbarium, Insects, Wildlife, Soils, Seeds, and the Atlas of Living Australia), the National Geosequestration Laboratory, Marine National Facility (RV Investigator), AAHL, Australian Telescope National Facility, and the HPC facilities NCI and Pawsey.
While the 2014 Commission of Audit identified the need for a more strategic, whole-of-government approach to the funding of research and development – including by committing to ongoing funding for critical research infrastructure in Australia – the report also highlighted CSIRO's growing maintenance bill.
"In addition to budgeted repairs, an additional $175 million in maintenance expenditure is needed over the next ten years to maintain CSIRO properties to meet external compliance requirements and certification standards," the report concluded in early 2014.
2017 will be a pivotal year – not only to stabilise CSIRO's operations after three years of drastic cuts to funding, jobs and research – but to test if politicians, policymakers and senior CSIRO leaders will properly fund the research infrastructure needed for CSIRO to stay ahead of the pack.