Delegates make the difference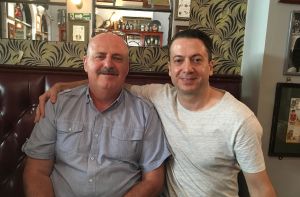 Volunteering as a Staff Association delegate is not only a way to put something back into the CSIRO workplace, it's also an opportunity to develop your communication, problem-solving and negotiation skills, writes Sam Popovski. 
AS A MEMBER driven, not-for-profit organisation that is democratic, open and transparent; the work of delegates is at the heart of the Staff Association's activities.
Over the last few weeks I've had cause to reflect on this special job our delegates perform. Sadly, last year's redundancies meant saying farewell to several Staff Association representatives who have represented their fellow members with distinction.
Delegates are volunteer members with official status within the Staff Association and in the workplace. Delegates play a crucial role supporting colleagues, and help keep the CSIRO workforce stay connected.
Staff Association delegates make a real difference to the working lives of colleagues and are part of a proud tradition of CSIRO employees making a positive contribution to the organisation's culture and values.
Tasks and attributes
The role does not require any previous experience or special skills; only respect for others and enthusiasm to improve the shared working experience of CSIRO staff.
Key tasks include:
Assist with the distribution of Staff Association information to members
Help maintenance of the union's visual presence in the workplace
Work with the Staff Association to represent views in the workplace
Encourage colleagues to join and participate in the Staff Association.
Training and career development
Delegates are also eligible to apply for paid-time training to develop advanced negotiation, communication and representational techniques; skills that can applied in a range of workplace settings.
The volunteer experience is also a great way to expand personal networks throughout the organisation and meet new friends working in other disciplines and roles across the country.
Special contribution 
As Staff Association Secretary, it's a rare privilege to represent so many wonderful CSIRO staff across the country. One of the most rewarding aspects of the role is listening to the experiences and opinions of our delegates.
Our delegates don't just make a special contribution to CSIRO workplaces. Staff Association delegates help keep the direction and operation of the union democratic and accountable to the wider membership.
I'd like to encourage any Staff Association member that is interested in becoming a delegate to contact their local organiser or the Staff Association office to find out more.
Sam