Slim pickings for science and CSIRO in Federal Budget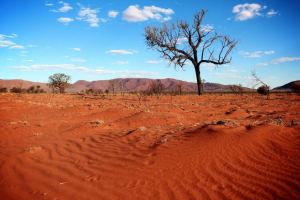 The union representing workers at the Commonwealth Scientific and Industrial Research Organisation (CSIRO) says that while Australian science and research has been largely overlooked in the Turnbull Government's Federal Budget, it appears there will no repeat of the savage job cuts experienced in the Abbott era.
CSIRO Staff Association Secretary Sam Popovski joined other representatives of the Australian research community in the lukewarm response to the budget.
"From a science and research perspective, it's an underwhelming budget at best. There's no major investment and the research infrastructure roadmap remains under wraps. Apart from a handful of measures there's little good news.
No news is good news?
"On the other hand, there are no significant job losses forecast in publically funded research agencies (PRFAs) as we've experienced in recent years, especially under the Abbott regime.
"However the damage done to CSIRO is still to be repaired; the bleeding may have stemmed, but the cuts have not yet healed," Mr Popovski said.
Staffing levels stabilised
Average Staffing Levels (ASL) at CSIRO will increase modestly over the coming financial year. The budget papers show an ASL increase of 68 from 4,995 (2016-17) to 5,063 for the financial year ending 30 June 2018.
"The projected increase is due to expected recruitment to align CSIRO with the priority areas outlined in the CSIRO Strategy 2020," the document states.
Mr Popovski said that the figures served as a stark reminder of the human toll of funding cuts to CSIRO over the past four years.
"Any additional jobs at CSIRO are welcome however it must not be forgotten that since 2013 the organisation had lost 1 in 5 positions or more than 20 per cent of the workforce."
Small decrease to CSIRO funding
According to the Australian Academy of Science's Les Field, several PRFAs – including CSIRO – will experience small decreases in funding over the estimates.
"It is disappointing to see small decreases in indexation of funding across the forward estimates equating to savings of several million dollars per annum in agencies such as CSIRO… These will certainly be absorbed, but will add to the challenge of doing important science and innovation in areas of critical national importance," Professor Field said.
Science and Technology Chief Executive Kylie Walker criticised the decrease and made reference to CSIRO's failure to deliver a pay increase to staff.
"It's disappointing that after recent cuts and a two-year salary freeze, our biggest national research agency, CSIRO, will suffer a decrease over four years of $13.6 million. Though small, this represents a continued erosion of their budget in real terms," Ms Walker said.
Upgrade for Data61
CSIRO's Data61 looks certain to benefit from a whole-of-government push to harness data however the Government would not identify the quantum of the proposed investment.
"Funding will also be provided to the Commonwealth Scientific and Industrial Research Organisation (CSIRO) to expand the role of Data61, Australia's leading digital research network.
"This funding will deliver a data integration platform that supports law enforcement and regulatory agencies to better detect, prevent and disrupt illicit activities within Australia and overseas," the budget papers state.
Some good news for Astronomy, Antarctic and Advanced manufacturing
The 2017-18 Federal Budget includes $26.1 million in new funding to optical astronomical research and instrumentation development and a commitment for ongoing average annual funding of $12 million, indexed, to 2027-28.
"This includes entering a 10-year strategic partnership with the European Southern Observatory (ESO) from 2018, giving Australia's astronomers access to the facilities and tools they need to participate in advancing our understanding of the universe," Science Minister Senator Arthur Sinodinos said.
There will be more money for Antarctic research with a commitment of $49.8m over the decade to ensure year-round operation of the research facilities on Australia's sub-Antarctic Macquarie Island which lies between Tasmania and Antarctica.
A suite of measures to encourage employment and development of skills in advanced manufacturing will attract funding in the order of $100 million over the estimates.
This includes setting up a new Advanced Manufacturing Growth Fund, more funds for the Advanced Manufacturing Growth Centre and related Cooperative Research Centre initiatives and the establishment of Innovation Labs in South Australia and Victoria.
Research infrastructure MIA
The Government's anticipated response to the Research infrastructure roadmap failed to materialise.
"Australia's national research infrastructure investment is already being endangered by the (Government's) unsatisfactory pattern of short term, fractured, sporadic, and unevenly considered funding decisions," said Shadow Science Minister Senator Kim Carr.
"Several national research infrastructure priorities – including additional investment into the Australian Synchrotron, biosecurity, additional sea time for the RV Investigator, a new research vessel for AIMS and an upgrade for Australian Animal Health Laboratory (AAHL) remain unfunded," Senator Carr said.
Momentum lost
The 2017-18 Federal Budget failed to capitalise on the momentum created only a year ago through the 2016 Budget which focussed heavily on science and innovation.
"The vision for an innovation-led future for Australia was completely missing in this Budget. Science funding and careers continue to deteriorate in Australia at the same time as other countries are boosting their investment and competitive advantage." Mr Popovski said.
"We will be left behind if we don't create new industries and secure jobs based on scientific endeavour. Unfortunately CSIRO staff know too well the consequences of a lack of political vision and support for science."
Related content