CSIRO switches on new Dell-built supercomputer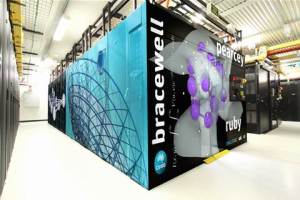 Australia's peak science and research organisation CSIRO this month flicked the switch on its new Bracewell supercomputer built by Dell EMC, offering double the computational power it previously could to researchers.
The CSIRO put a call out to the market late last year for a new $4 million, 1 petaflop supercomputer that would replace its existing BRAGG high performance compute cluster.
The new turn-key 'Bracewell' supercomputer is based on Dell EMC's PowerEdge platform. It boasts 114 PowerEdge C4130 servers with Nvidia Tesla P100 GPUs, Nvlink, dual Intel Xeon processors, and 100Gbps EDR InfiniBand interconnect.
It contains 1,634,304 Cuda compute cores, 3192 Xeon compute cores, and 29TB of RAM, and runs both Linux and Windows.
The system was installed in five days across May and June, the CSIRO said. It entered production early this month.
It is intended to help boost the CSIRO's capability in deep learning and, in the longer term, artificial intelligence.
The supercomputer is named after Australian astronomer and engineer Ronald N Bracewell, who helped to advance medical imaging technology.
One of the first research teams to put the new processing power through its paces is the Data61 computer vision group, which has developed software that aims to restore sight for those with profound vision loss.
The team will use the new supercomputer to run larger data sets that will help train their software to recognise and process more images, the CSIRO said.
"To make this a reality, we need to build vision processing systems that show accurate visualisations of the world in a broad variety of scenarios. These will enable people to visualise the world through their bionic vision in a way that enables them to safely and effectively interact in challenging visual environments," team lead and associate professor Nick Barnes said in a statement.
"This new system will provide greater scale and processing power we need to build our computer vision systems by optimisation of processing over broader scenarios, represented by much larger sets of images, to help train the software to understand and represent the world.
"We'll be able to take our computer vision research to the next level, solving problems through leveraging large scale image data that most labs around the world aren't able to."
The CSIRO's deputy CIO Angus Macoustra called the supercomputer a "critical enabler" for the organisation's science, engineering, and innovation activities.
"The power of this new system is that it allows our researchers to tackle challenging workloads and ultimately enable CSIRO research to solve real-world issues," he said.
"The system will nearly double the aggregate computational power available to CSIRO researchers, and will help transform the way we do scientific research and development."
This article was originally published at ITnews.