CSIRO spends up on satellite amid Australian scramble for space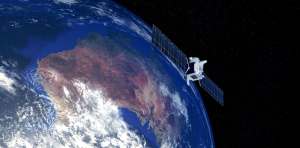 CSIRO will spend upwards of $10 million for a seven year time-share on a new satellite that will deliver Australian researchers access to high resolution terrestrial imagery using S-band Synthetic Aperture Radar.
The announcement comes as both major Australian political parties made fresh pitches to the local research community by each undertaking to establish a national space agency.
News that Australia would join most OECD nations and develop a domestic space industry was received positively, however a lack of detail and dollars ensured most reaction remained on the launching pad.
NovarSAR
The NovaSAR satellite is being developed in the United Kingdom by Surrey Satellite Technology Ltd (SSTL) and by Airbus UK and is due for launch later this year.
CSIRO has signed an agreement with SSTL ten percent of the 'tasking and allocation' time of NovaSAR, worth $10.45 million over seven years.
According to CSIRO the S-band Synthetic Aperture Radar technology will allow images 'to be taken day and night, and through cloud cover… especially useful in tropical zones and cloud-affected areas,' and applications could assist research into natural disaster detection and assessment, infrastructure and agricultural mapping and detection of illegal deforestration.
CSIRO's involvement in the project will be conducted through National Facilities management.
Plans for an Australian Space Industry
The Turnbull Government has announced a commitment to establishing a national space agency as part of a long-term plan to create an Australian space industry.
Acting Minister for Industry, Innovation and Science, Senator Michaelia Cash, said the establishment of a space agency is on the cards, pending the release of a charter – being developed by a reference group led by former CSIRO Chief Executive Dr Megan Clark – due in March 2018.
"A national space agency will ensure we have a strategic long-term plan that supports the development and application of space technologies and grows our domestic space industry," Minister Cash said.
Meanwhile the Labor Opposition released matching policy promising the establishment of an Australian Space Science and Industry Agency upon election to Government.
"Labor's Australian Space Science and Industry Agency will be tasked to double the size of the Australian space industry within five years of its establishment – creating 10,000 new high skill, high wage jobs in advanced manufacturing, research, earth observation and space technologies," Shadow Science Minister Kim Carr said.
Grounded response
While generally positive, some commentators voiced guarded support for the planned foray of Australian politicians into space.
Writing for Guardian Australia, Andrew P Street said that the public "should be excited, because Australia already does amazing space science."
Street cited the legacy and contribution of CSIRO run facilities such as the Canberra Deep Space Communications Centre, the Parkes radio telescope, the Australia Telescope National Facility near Narrabri, and the Australian Square Kilometre Array Pathfinder in Murchison.
"The first question of the Australian Space Agency would appear to be this: what's it actually going to do? Oddly enough, that's not nearly as clear as you'd expect," Street said.
Chris Duckett – writing in ZDNet – reflected that recent science and research investment decisions in Australia should give people pause for thought.
"It was only two weeks ago that the nation's premiere organisation for scientific research, the CSIRO, had faced another round of job cuts and will see its headcount fall by 57. The Community and Public Sector Union wrote at the time that of the 57 people to go, 15 would be from Data61 — its highly touted digital arm," Ducket wrote.
"Data61 has advised the Staff Association that the 'impacted teams are confined to the Communications systems group within the Cyber Physical Systems program which is comprised of small teams in the electromagnetics, microwave systems, communications and project management capabilities'," the CPSU wrote at the time.
"All of the positions identified are set to be cut from Sydney's Marsfield laboratory, home to Data61 and CSIRO Astronomy and Space Science researchers.
"One can only assume that in the weeks leading up to the space agency announcement, the brains trust involved was of the belief that the idea of space communications, and particularly protecting information over the air, was a solved problem," Ducket wrote.
Related content