Pedal Power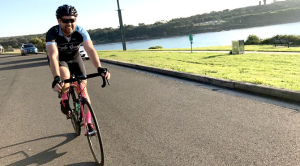 CPSU staff member Simon Frazer is setting off this Friday, 13 October, on a bicycle odyssey to raise money for an important cause, the Black Dog Institute.
In the very early hours of October 13, Simon and around fifty other cyclists will set off on the Zoo2Zoo, an annual three-day 430km-ride from Sydney's Taronga Zoo to Dubbo's Western Plains Zoo.
Simon says, "It's going to be an enormous physical and mental challenge, but riding for the Black Dog Institute and its important work in understanding, preventing and treating mental illness is definitely going to help me keep my legs turning."
"I'll be riding for around six hours a day over average over the three days of the ride, but it's not just the distance that's going to pose a challenge. In previous years riders have had to contend with heatwave conditions, snow, teeming rain and everything in between.
:Of course there are plenty on hills and the Blue Mountains on the way as well, so I'm expecting sore legs by the time I get to Dubbo."
"Mental illness touches all of us, either directly or indirectly through our friends, colleagues and loved ones. I was brought up in the country, so I also know that places like I'll be riding through on this trip are often among the hardest hit by depression and other forms of mental illness."
How you can help 
You can support Simon's efforts and, more importantly, the vital work of the Black Dog Institute here. 
The Zoo2Zoo story
This year will be the twelth time the Zoo2Zoo has run since its inaugural edition in 2006.
The concept has since been expanded with other rides, raising $170,000 for the Black Dog Institute last year alone.
The Sydney to Dubbo edition will begin before sunrise at the iconic gates of Taronga Zoo, with riders navigating the early Sydney traffic before they begin the long climb over the Blue Mountains. Day one finishes in Blackheath with around 134km covered.
Day two is a 181km slugfest, with plenty more hills to climb as the riders travel through Lithgow, Bathurst and Orange before finishing the day in the pretty town of Molong for a well-deserved rest.
The final day is a relatively modest 115km ride through to Dubbo and Western Plains Zoo, travelling via the towns of Cumnock and Yeoval.
The Black Dog Institute
The Black Dog Institute is a not-for-profit organisation that was formally launched in 2002.
The institute is named after the metaphor most famously used by wartime British prime minister Winston Churchill to describe his own depression.
Black Dog is dedicated to understanding, preventing and treating mental illness to improve the lives of those affected.
The institute runs a depression clinic and bipolar disorder clinic that provides free clinical assessments for those suffering from treatment-resistant mood disorders.
It also undertakes research into depression, bipolar disorder and other related areas.
Education is also a core function, providing information to a wide range of people from professionals such as GPs, psychologists, nurses and school counsellors through to education programs for the general community in workplaces, youth spaces and regional areas.
The Black Dog Institute receives some government funding but also relies heavily on donations such as those raised through Zoo2Zoo.