CSIRO Health, Safety and Environment unit set for overhaul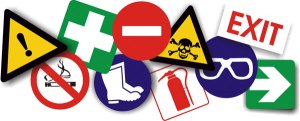 An early review report into CSIRO Health, Safety and Environment (HSE) strategy has generated debate with commentary suggesting that 'significant divergences of perspectives… will have significant implications for what the future HSE model looks like.'
While the review –  conducted by external consultants Price Waterhouse Coopers (PWC) – has yet to release final recommendations; the draft report has revealed a wide divergence of opinion regarding the future location, range, funding and ultimate responsibility for HSE delivery.
Background
The review into HSE strategy has occurred as part of CSIRO's Strategy 2020. In developing the draft report, PWC has conducted more than seventy interviews, held focus groups and consulted with select stakeholders using a range of online and offline methods.
Six key themes are identified in the draft report; culture, strategy and leadership, roles and structure, capability and capacity, systems and processes and finally service delivery.
However, what the report describes as 'the four elements of the future state model' has the potential to spark real controversy.
'Decision Points'
These so-called decision points encompass issues such as the location of HSE services (central versus site), quality of services and coverage (specialist versus generalist), whether responsibility comes should rest with HSE or business units and questions over central or decentralised funding.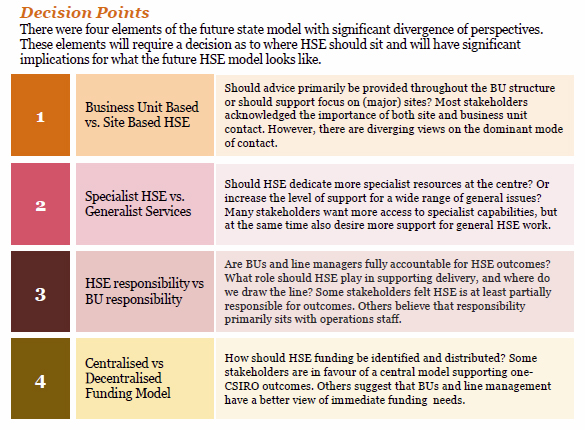 The report also shows that the views of stakeholders are divergent. For example, Executive and Board participants favour specialist HSE services based and accountable at the business unit level, HSE Advisers seem to favour a site based strategy with a relatively even mix of services, accountability and funding.
Extensive consultation
Staff Association representatives have been working hard to ensure HSE staff have a genuine opportunity to meaningfully influence the decision making process before final outcomes are reached.
In response to this advocacy, CSIRO management have committed to an extensive round of consultation, giving members the opportunity to provide key input into this significant review.
Next steps
Feedback on the draft PWC report is currently open. Following this, CSIRO management will be presented with detailed recommendations from PWC to improve the capability and function of HSE, including 'alignment on decision points and the desired structure.'
CSIRO management have committed to further consultation once these recommendations are released and prior to any final decisions being made.
At this stage CSIRO management has claimed that any changes to the HSE strategy or function will not result in staff reductions.
Safety in numbers
Join the Staff Association today to help ensure staff can use their collective voice and influence to achieve the safest and healthiest work environment possible in CSIRO. If you are a member, you can ask a colleague to join by emailing [email protected] to request a membership application.