'Not a dumbing down': Michelle Guthrie announces major ABC restructure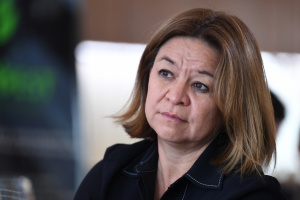 Managing director announces a reorganisation along genre lines rather than keeping radio and television divided, writes Amanda Meade for Guardian Australia. 
The reorganisation of the ABC along genre lines to remove the historic division between television and radio is not a "dumbing down" exercise but an "evolution" for the digital age, its managing director, Michelle Guthrie, has told staff.
From February next year the networks will be divided up into three new teams and a fourth team for original content and innovation, Content Ideas Lab, led by an ABC Radio staffer, Angela Stengel.
The move will see the ideas network Radio National split up between different teams and made to compete for budgets with television and digital, a development radio executives warn will diminish its specialist knowledge and creativity.
News, analysis and investigations will be led by the current news director, Gaven Morris, and will be responsible for all news and current affairs coverage across television programs including Four Corners and the 7pm news and Radio National programs including Breakfast, PM and the World Today and online news.
Entertainment and specialist will be led by the current director of television, David Anderson, and will be responsible for children's content, music and creative development, factual and entertainment, drama, comedy and Indigenous programming across all platforms.
"The initiatives … will improve collaboration and decision making," Guthrie told the corporation's almost 5,000-strong staff body in a national televised address from Melbourne on Tuesday.
"They provide for more flexibility in allocating resources. They address duplication. They put people with similar craft skills into creative teams that better align with audience interests. They allow our storytellers to target audience gaps and to maximise reach and engagement."
The divisions between radio – established as the Australian Broadcasting Commission in July 1932 – and television – which arrived in 1956 – will be dissolved to make way for rapid technological change which has led to audience fragmentation.
Today the ABC has the Radio National, NewsRadio, Classic FM and triple j national radio networks as well as 56 local radio stations and several digital radio stations. It has four TV channels – ABC TV, ABC2, ABCMe and ABC News – as well as a catch-up service, iView.
"By keeping what is central – our charter, our sense of public service and our presence across the nation – and purposefully adapting the way we work to meet the changing expectations of our audiences, we can deepen our connection to citizens," Guthrie said.
"In a time of unprecedented disruption, the ABC's role is more important than ever. It means there is a heavy onus on us to ensure we make the right decisions to maintain relevance and value."
Regional and local, led by the current director of radio, Michael Mason, will look after the 56 local radio stations, regional content and TV programs including Landline.
Mason and Anderson will be addressing staff with more detail about how the new structures will work.
Guthrie announced $10m would be spent on skills training, and a new cadet program "to attract, train and develop the next generation of content makers" would also be launched.
She said the new structure, revealed by Guardian Australia, was designed to "maximise the ability of audiences to discover and enjoy the great storytelling that you create".
"This phase is not about cost cutting, program changes or a reduction in networks," she said, but she warned that further cuts and job losses could not be ruled out.
"We know that this does not mean everything else stops in its tracks. Our content teams and managers will need to continually review programming for its effectiveness and distinctiveness. The search for efficiencies will go on, as it should for a taxpayer-funded organisation.
"The new structure will reduce overlap between ABC people covering the same subjects for multiple programs and platforms, and instead free them to focus on creating impactful, value adding stories that can reach audiences however and wherever they choose to engage," Guthrie said.
"The result will be extended reach and relevance, a better experience for our audience and an ABC that, in a fragmented landscape, provides the critical space for debate, dialogue and ideas."
The ABC Friends national president, Margaret Reynolds, said substantial government cutbacks had led to significant staff losses and remaining staff should be valued and retained.
"Management must value staff for their intellectual and creative capacities, not merely as competent tech heads," Reynolds said. "Methodology can be acquired but it is much harder to replace experience and ideas in an organisation that risks losing senior staff that could have a vital mentoring role."
Sinddy Ealy, the section secretary of the Community and Public Sector Union, said the announcement was light on detail and came on top of constant upheaval at the ABC.
"Beyond today's bells-and-whistle announcement we will be working with our ABC members to ensure the ABC's leadership deliver a functional structure that delivers on its promises – that means equipping staff to make great content for ABC audiences, addressing dangerous levels of workplace stress, retaining skilled and experienced staff and putting an end to unnecessary expenditure on redundancy and external consultants," she said.