Nadine Flood team triumphs in CPSU election victory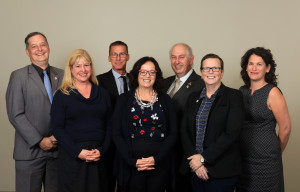 Nadine Flood has won another term as CPSU National Secretary, in a decisive victory that will extend her leadership of Australia's largest public sector union until 2020.
The election victory of Ms Flood – by a margin of more than 70 per cent – completed a clean sweep of all CPSU senior positions for incumbent candidates – with the remainder of Executive positions returned unopposed.
CSIRO Staff Association President Sonia Grocke and Secretary Sam Popovski were elected to three year terms unopposed, following the closure of nominations in October 2017.
CPSU Executive Team returned
Led by Ms Flood, the remainder of the CPSU Executive Team elected includes: Michael Tull (Assistant National Secretary), Alistair Waters (National President), Lisa Newman (Deputy National President), Rupert Evans (Deputy National President), Beth Vincent-Pietsch (Deputy Secretary) and Melissa Donnelly (Deputy Secretary).
Assistant National Secretary Michael Tull described the results as a vote of confidence in the CPSU leadership from rank and file members.
"Nadine has led this union through some challenging times in recent years, particularly the Abbott and Turnbull governments' massive job cuts, and their harsh anti-worker and anti-union approach to enterprise bargaining for Commonwealth agencies.
"Her resolve and experience has secured us important wins in the workplace while also leading successful community and political campaigns to oppose privatisations in Medicare, Australian Hearing and the ASIC Registry," Mr Tull said.
CSIRO Staff Association results
CPSU's CSIRO Section Executive will comprise of Sam Popovski (Secretary), Sonia Grocke (President), Mark Green (Deputy President), Melissa Skidmore (Deputy President) and Scott Wilkinson (Treasurer).
Elected Section Councillors include Michael Collins (NSW), Lynda Wright (Victoria), Steve Charles (WA), Anna Campbell (Southern Queensland) and Delia Muller (Northern Australia). Councillor positions in the ACT, SA and Tasmania are still to be filled, however it's expected that Council will confirm Hobart delegate Damien Irving to represent Tasmanian members.
CSIRO Staff Association Secretary Sam Popovski thanked union members for continuing to support the current team.
"It's an honour and a privilege to represent the views of CSIRO Staff Association members. On behalf of Council and Executive I would like to express my gratitude for the support that members continue to provide to the union's leadership.
"Council will meet in Melbourne this February to map out the year ahead and develop strategies to meet the challenges facing CSIRO staff and help build a stronger Staff Association in 2018 and beyond," Mr Popovski said.