Pledge to support CSIRO and Change the Rules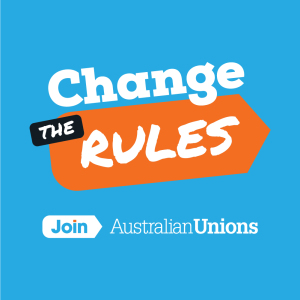 The Change the Rules campaign – focused on overhauling Australia's workplace laws and building a fairer system – has picked up pace in CSIRO with the launch of a Staff Association initiative set to run until early 2019.
With a federal election approaching that will feature wages, conditions and workplace rights as a key battleground, a recent series of national Change the Rules rallies drew hundreds of thousands of union members and supporters into the streets of Australia's capital cities and regional centres.
Staff Association Secretary Sam Popovski said that CSIRO staff across the country would be asked to commit to supporting the Change the Rules campaign.
CSIRO agenda
"Over the next three months we'll be asking staff in all workplaces to pledge support for the Change the Rules campaign and to support CSIRO.
"Top objectives of the Change the Rules campaign – fairer bargaining laws, reducing the level of insecure work – apply directly to the CSIRO experience.
"Other priority issues – such as increasing the representative voice of staff and protecting public good research at CSIRO – also form part of the agenda that Staff Association members want to see progressed," Mr Popovski said.
Key features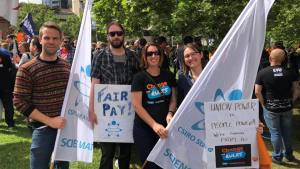 The pledge activity asks CSIRO staff – both union members and non-members – to support the Change the Rules campaign to achieve:
Genuine enterprise bargaining
Secure employment
Staff-elected position on the Board and
A CSIRO where public good comes first.
"During the last round of bargaining at CSIRO we saw how easily the current rules can be exploited to demoralise, disrespect and sow distrust throughout the workforce," Mr Popovski said.
"A recent Staff Association survey revealed that more than 82 per cent of participants agree or strongly agree that staff should have a direct say on the CSIRO board."
Campaign for change
Participants in the pledge activity will be asked to commit to attending campaign events hosted by the Staff Association in CSIRO workplaces, participate in Change the Rules community activities and encouraging family and friends to share the 'support CSIRO' message on social media platforms.
"The CPSU and unions across the labour movement will increase campaign activities over the coming months in advance of the federal election, due sometime in the first half of next year," Mr Popovski said.
"CSIRO staff must be part of that effort if we want our issues – fairer bargaining rules, secure employment, greater staff representation and more public good research – to receive the community support necessary to advance this agenda."