Union members hit the street to Change the Rules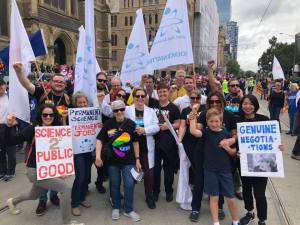 Staff Association members have joined colleagues from unions across the labour movement and participated in a national series of rallies over October and November as part of the Change the Rules campaign.
Protest meetings and rallies were held in Perth, Melbourne, Sydney, Wollongong, Gladstone, Cairns, Mackay, Rockhampton, Townsville, Hobart, Launceston, Burnie, Shepparton, Adelaide, Wodonga, Bendigo, Newcastle, Brisbane and Canberra.
The Melbourne demonstration outshone the rest with an estimated 170,000 people swamping the Victorian capital.
Strong message
"In the past month, hundreds of thousands of working people have filled the streets in locations across the country," Australian Council of Trade Unions (ACTU) Secretary Sally McManus said.
"We need to change the rules so working people get a fair go, fair pay rises, and jobs they can count on.
"Working people need the tools and power to win fair pay rises. This includes making our bargaining system fair, increasing the minimum wage to a living wage, ensuring award minimums improve over time, penalty rates to be restored, wage theft ended, and secure and equal pay for women," Ms McManus said.
Centrelink jobs
At the Sydney rally, Community and Public Secretary Deputy Secretary Melissa Donnelly spoke about the Coalition Government's move to privatise parts of the public service and attack Centrelink and the social security system.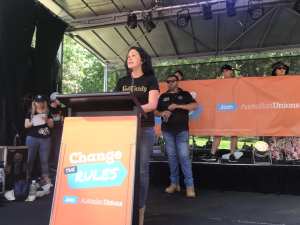 "The Morrison Government is pushing Centrelink to breaking point and now piece-by-piece privatising our social security system, privatising it by outsourcing call centres to multinational profit hungry corporations like Serco," Ms Donnelly said.
"Instead of delivering services to vulnerable Australians, this Government is delivering profits to multinational corporations. This year alone the Government has cut 1,200 jobs from Centrelink and the Department of Human Services pushing services to breaking point," she said.
High praise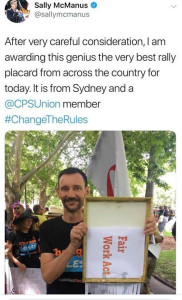 On a lighter note, Ms McManus proclaimed CPSU Organiser Will Starritt the winner of the "Australia's best placard" competition for his Banksy-inspired effort displayed at the Sydney rally.
Mr Starritt said the accolade took him unawares.
"As I'm not a big user of social media I didn't even know I'd won until a friend called up and told me. I was pleasantly surprised.
"I put the placard together very quickly before the rally, the concept was inspired by something similar I had seen at an anti-Brexit demonstration."
"To me it symbolises where workplace rights are going under this Government," Mr Starritt said.
More information