CSIRO saw this summer 30 years ago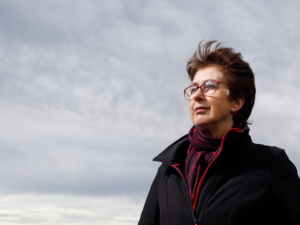 Across Australia, this summer has been described as the hottest, wettest, dustiest, and generally most extreme on record, but just how unusual was this in context asks Helen Cleugh? 
WITH SMASHED temperature records, one-in-100 year floods, and bushfires raging for weeks on end it's not a baseless claim. But just how unusual was this summer in a historical context? What role is climate change playing in these extreme weather events? And, importantly, can we expect more of the same?
Compared to climate observations that date back to 1910, this summer could certainly be classed as extreme. The Bureau of Meteorology's observations show that January was the warmest month on record for Australia with mean, maximum and minimum temperatures all at least 2 degrees Celsius above average. Australia had its hottest December day on record, with a national mean maximum temperature of 40.19 degrees Celsius being recorded on December 27.
Records also dropped in tropical Queensland with Townsville breaking its 10-day rainfall record by more than 300 mm (30 per cent more than the previous record). Visit the BoM website to see the many more records that have made this summer unprecedented.
The implications have been wide and deep. There has been increased pressure on the electricity system, with 200,000 consumers across Victoria losing power on a single day. In the Murray-Darling Basin, while a number of factors were at play the heatwave played a significant role in the fish kill events, and record-breaking heat triggered the deaths of thousands of spectacled flying foxes, which has led to the species moving from "vulnerable" to "endangered" on the threatened species list.
The Queensland floods are estimated to have caused the loss of hundreds of thousands of cattle, and the Insurance Council of Australia have so far estimated insurance losses in Townsville to be $887 million. The economic, environmental, and social impacts of this summer's extreme weather will be felt for some time to come.
As we move into autumn, questions are being asked about what has led to this unprecedented summer. The 2018 State of the Climate found that Australia's climate continues to warm (by just over 1 degree Celsius since 1910). This long-term warming is accompanied by more frequent and intense extreme heat events.
There has also been a long-term increase in extreme fire weather, and in the length of the fire season across large parts of Australia since the 1950s and especially in the south and east. The heat and fire weather extremes we experienced this summer are consistent with the long-term change signals we have observed in Australia's climate.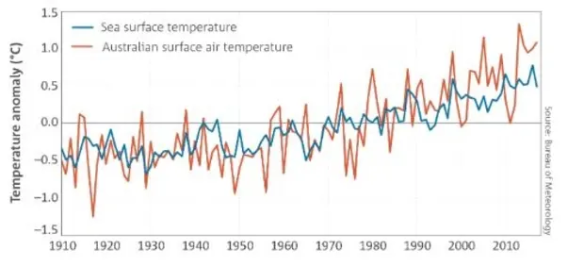 The 2018 State of the Climate found that Australia's climate continues to warm. BOM
The temperature increase Australia has experienced is within the range of our earliest climate change projections, which CSIRO published almost 30 years ago.
In other words, our climate models adequately capture the processes that cause the long-term warming trend, which in turn means that our projections of future climate change are realistic, plausible and importantly, can allow us to plan.
Our understanding of the climate system and our climate models have improved significantly since these initial climate change projections. For example, working with the Bureau of Meteorology and drawing on Australia's most powerful supercomputers, we have developed a fully coupled climate and Earth system model, which has significantly improved the accuracy of weather forecasts, including for high impact weather such as tropical cyclones, fire weather and heavy rain; along with providing global climate simulations for long-term climate projections.
However, the key message from our most recent climate change projections is unchanged: if global greenhouse gas emissions continue on their current (high emissions) trajectory then these warming trends will continue, and the climate impacts we are seeing will continue including more extreme weather events.
Research published this week offers hope. It found there had been a reduction in emissions across 18 developed countries, including the UK, USA, France and Germany. The many and complex factors that have led to these reductions provide much food for thought. If this summer has underscored one thing it is that strategies for adapting to climate change must sit alongside those for mitigation.
CSIRO research supports both. We are working with industry to develop innovative solutions, like reducing the cost and improving the efficiency of carbon capture and storage, making it a viable option for Australia's energy future.
We are working with farmers to adapt to changed climate conditions, such as developing tools to support water use efficiency, help reduce methane emissions from cattle, and build resilience into farming practices buffeted by drought.
We are working with our research partners, and the private sector, to develop the climate change information and products to help businesses manage climate risk.
Australia is and will continue to be a land of extremes. Through innovative science and novel technologies in climate analysis, modelling and forecasting, and adaptation and mitigation, CSIRO are providing the science and solutions that will help Australians to adapt as best we can to the significant challenges presented by the kind of extremes we experienced this summer.
Dr Helen Cleugh is director of CSIRO's Climate Science Centre. This article was first published by The Australian Financial Review. 
Related content