Land and Water realigns strategy and structure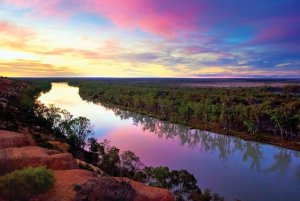 CSIRO Staff Association representatives recently met with Land and Water's Jane Coram and Julie Carroll to discuss proposed changes to the business unit's strategy and structure.
The Staff Association requested the meeting as part of CSIRO's obligation to consult ahead of changes in the workplace.
What was discussed?
The meeting was an opportunity for the Staff Association to hear from CSIRO on what current proposals mean for staff and for our representatives to ask questions on behalf of members.
Land and Water senior management are shifting the strategy and structure of the unit following a business review completed in June 2018. The information, provided to staff in early February as part of CSIRO's consultation process, details the following key changes:
he creation of a new position of Deputy Director to oversee and coordinate the Operations, People and Business pillar activities across L&W.
a part-time development role will assist L&W Science Director Paul Bertsch as he undertakes a part-time secondment with the Queensland Government as the Chief Scientist
a reduction in the number of programs from 5 to 4 programs.
Proposed new program structure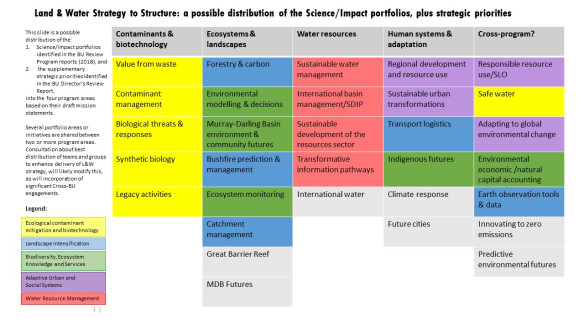 Why is this happening?
CSIRO has stated that following the review, senior management determined an ongoing need to recognise that much of Land and Water's capability is deployed across multiple Business Units; which have not always been priorities in the management of Land and Water programs.
Senior management has now recognised that the cross-unit deployment of people – without a long-term strategy and understanding of Land and Water's own needs – is not the preferred method of operating. A greater appreciation across CSIRO of the breadth of Land and Water's capability is also needed.
The realignment is a move by CSIRO to improve the consistency between operational and high-level Land and Water strategy. Senior management have suggested that the new strategy will be better delivered by putting certain teams together in a new structure under four programs; based on 'scientific synergies'. The new structure is also intended to allow for Land and Water's workload to be divided more equitably across program leaders.
Additionally, senior management have identified a need to make better research infrastructure decisions, stating that there there is an immediate need to understand what the Land and Water infrastructure needs are now and in the future.
It has been confirmed that the proposed changes are not the result of external revenue targets or measures imposed by the CSIRO Executive Team.
What does this change mean for Land and Water staff?
CSIRO has said the re-alignment is a process of consolidating existing science/impact portfolios under four programs, as outlined above. No job losses or FTE reductions are proposed.
When will this change occur?
Consultation is ongoing, but CSIRO is looking to fully implement the strategy from 1 July 2019. Consultation is also occurring across the large number of Land and Water affiliates, with the business unit looking to have a 'big picture view' on how it should be managed.
CSIRO is currently continuing to seek feedback on the proposed structure and strategy. Following this, senior management will complete an assessment of the feedback and then will make a decision on how best to move forward.
What do I need to do?
If you are a member you can make contact with your local workplace delegate, organiser or you can email [email protected] to provide your feedback on the structure, strategy and process to date.
If you are not yet a member of the Staff Association, then you need to join to be represented.