Federal election announced for Saturday 18 May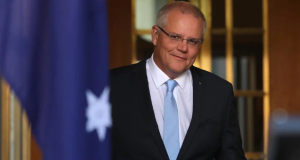 Prime Minster Scott Morrison has announced that a federal election will be held on Saturday 18 May 2019, ending weeks of speculation and marking the start of a 37-day campaign.
The decision to go to the polls follows an early federal budget that included no new measures for CSIRO and little for science in general; despite calls from research community representatives for stronger investment in the sector.
While the major political parties are still to respond to Staff Association correspondence seeking specific policy commitments on a range of issues – including CSIRO funding, job security, scientific integrity and fairer enterprise bargaining – representatives from the Coalition, Labor and the Greens recently met with science leaders in Sydney to outline competing visions for Australian research.
Australia votes
The federal election will be held on Saturday 18 May, with the campaign of five weeks and two days encompassing Easter, Anzac Day and school holidays.
The Australian Electoral Commission has received writs to hold an election for the House of Representatives and half of the Senate. Postal vote applications are open from 11 April until 15 May. New enrolments and changes of details must be received before the close of rolls on 18 April. Nominations and ballot draw will be held 24 April.
Early voting for eligible voters – or prepoll – is available from 29 April. Polling will occur from 8am – 6pm local time on Saturday 18 May. The counting of ordinary votes will commence immediately following the close of polls.
Federal budget
The Federal Government brought forward the announcement of the 2019-20 budget to Tuesday 2 April. The papers show a largely neutral outcome for CSIRO; no specific budget measures or significant increases in funding however no new cuts either. The Average Staffing Level in CSIRO will increase by a mere three (3) positions.
Revenue from Government will increase marginally from $834.5 million to $839.2 million; down from $839.9 million as reported in additional estimate statements "due to a movement in the indexation parameters." Total CSIRO expense estimates for 2019-20 of $1.4 billion is down $21.6 million from previous estimates "primarily due to a downward revaluation of CSIRO's non-financial assets resulting in lower depreciation expense estimates."
While the budget included new funding for ANSTO, a National Drought Map, the establishment of a Space Infrastructure Fund and money to encourage women in STEM education and careers; there were also cuts to university research funding, ARC research funding and the National Collaborative Research Infrastructure Scheme.
Science policy
Peak body Science and Technology Australia – representing more than 70,000 science workers including CSIRO staff – held a meeting of research leaders in Sydney in late March to set out policy expectations for the major political parties ahead of the federal election.
In addition to developing a whole-of-government plan, commitment to stronger science investment, evidence-based policy making and a strategy to equip the Australian workforce with STEM skills; the communique from science leaders called for no more cuts to CSIRO, the Bureau of Meteorology and the Australian Bureau of Statistics.
The Minister for Industry and Science Karen Andrews made no new announcements; relying instead on investments in research infrastructure projects in the 2018-19 budget and the National Innovation and Science Agenda launched four years ago.
Shadow Minister Kim Carr promised that an elected Labor Government would end the war on science and would set a target for investment of 3 per cent of national Gross Domestic Product (GDP) in science and research by 2030.
Greens science spokesperson Adam Bandt argued for a boost in expenditure on public and private research and development to at least 4 per cent of GDP and called for increased and more predictable funding for Commonwealth publicly-funded research agencies, including the CSIRO.
CSIRO specific
The Staff Association has identified eleven science policy priorities for the upcoming federal election and invited the Coalition, Labor and the Greens to respond and list any other election commitments regarding CSIRO and its staff, for the information and consideration of members.
Following the receipt of responses; the Staff Association will communicate with members prior to the federal election on 18 May.
Issues included CSIRO funding, enterprise bargaining policy, staffing restrictions, staff-elected board representation, scientific integrity and measures to increase gender balance, cultural diversity and Aboriginal and Torres Strait Islander participation.
Related content