Thousands march in campaign to Change the Rules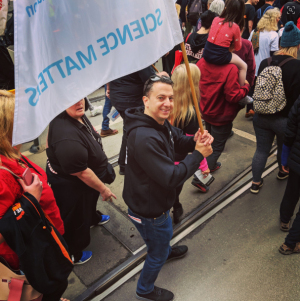 Thousands of Australian workers went off the job on Wednesday, marching to demand better conditions and increased wages.
Melbourne streets were blocked as a crowd, which organisers claimed to be 100,000 people, chanted through the CBD.
Other Change the Rules rallies were held in 14 centres across the country including Cairns, Launceston and Perth.
Victorian Premier Daniel Andrews joined the Melbourne march which started at Trades Hall at 10.30am and finished at Victorian Parliament and was the largest of the rallies.
"Some will be critical of me being here … but I am proud to be here," Mr Andrews told the Nine Network.
"There will be tens of thousands of people marching in Melbourne and across the country setting a clear message that rules need to change and we need a fair go."
He also used the rally to back Labor leader Bill Shorten in the coming federal election.
The show of action was the latest in union campaigns highlighting wage issues, including cuts to penalty rates. Unions say the federal government has overseen the largest decline in living standards in 30 years.
Cleaner and United Voice member Olisa Heard said her job was forever insecure because she worked for contractors.
"If we get a pay increase with one company, they lose the contract to a cheaper company because whoever bids the lower tender gets the contract," she told the crowd. "So our wages don't go up."
Ms Heard said she had seen cuts to staff, hours and pay over the years, and the uncertainty over income was having a detrimental effect on her family, including her husband's mental health.
National Union of Workers delegate Rebecca said recent strike action by Chemist Warehouse employees brought improved working conditions,
"We have been slowly manipulated into believing we do not have a voice and no one will care," she said.
"We stand united to show our government, these monster corporations and companies that we are woke – today our voices will be heard."
United Voice, representing retail and hospitality workers, has been targeting marginal seats claiming penalty rate cuts are hurting family budgets.
ACTU secretary Sally McManus said workers were demanding fair pay rises and more secure jobs.
"To achieve this, we need to change the rules at work. To change the rules, we need to change the government," she said.
"These political protests are telling Scott Morrison that for too long our wages have stood still or gone backwards and too many families are struggling – it's time to change this Government.
"Australia needs a pay rise. We will not sit back and let our living standards go backwards."