A vital time and an important election for CSIRO staff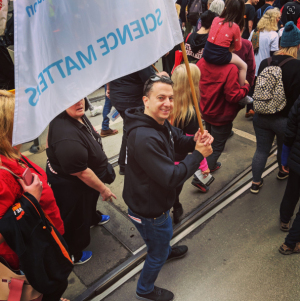 Staff Association Secretary Sam Popovski outlines what's at stake for CSIRO staff at this Federal Election.
FOR AUSTRALIAN SCIENCE, the political instability of recent times has been incredibly damaging.
The Government's National Science and Innovation Agenda has failed to deliver, with research and development now down to 1.8 per cent of Australia's Gross Domestic Product, the lowest it's ever been. This is despite the emphasis on government funds, including CSIRO's, being used to attract business investment.
We've had thirteen science Ministers in just over a decade. Only Labor's Kim Carr can claim to have been Minister long enough to develop and implement a plan for Australian science and technology.
Since 2013, there have been good and bad Ministers under the Coalition (and no Science Minister at all for a period), but even the better Ministers have struggled to advance science amongst their more hard-line Liberal and National Party colleagues.
And CSIRO has done it toughest of all.
1 in 5 jobs were lost following a $110 million funding cut in the Abbott Government's 2014 Budget.
Then in 2016, over one hundred CSIRO climate and environmental research jobs were targeted by the Government. Thankfully more than half of these positions were saved through the actions of the science community and advocacy of the Staff Association.
Staff sometimes ask me: 'But historically, don't both (major) parties treat CSIRO the same?'
The answer was closer to yes in decades past. For example, the Howard Government funded CSIRO through the Backing Australia's Ability program and Labor continued to boost Commonwealth R&D investment up until 2013.
However, the last six years have been much different.
In addition to funding and jobs cuts, we've seen CSIRO staff attacked by regressive bargaining to cut real wages and conditions; we've seen CSIRO sidelined for Great Barrier Reef funding and we've witnessed Government representatives trashing the science of climate change and the integrity of science itself.
The Staff Association is not affiliated to a political party. We would love for both major parties to take a bipartisan approach to CSIRO.
The reality is that this can't happen if the Liberal and National Parties continue to have influential elected members that disrespect and undermine our work and our organisation.
So we are left with a choice.
The Labor Party is the only other party that will be able to form Government after the May 18 election.
It's important for CSIRO staff that they do, not because their agenda is perfect, but because it is significantly better for CSIRO than the Coalition's agenda and recent track record.
In terms of other parties, the Greens have the best agenda for science and CSIRO. They agree with all commitments that the Staff Association has been seeking from politicians ahead of this election.
This is a vital time and an important election for CSIRO staff.
With both science and technology and industrial relations, our future is significantly more promising with a change of government.
Sam Popovski is the Secretary of the CSIRO Staff Association.
Authorised by Sam Popovski, CSIRO Section Community & Public Sector Union (PSU Group) Level 7, 350 Queen Street Melbourne Victoria 3000.