CSIRO leaders step into the limelight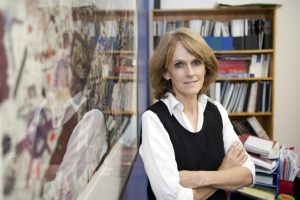 Two of CSIRO's most senior leaders will set out the case for science and CSIRO in a rapidly changing world during separate high-profile events public events targeting large and diverse Australian audiences.
CSIRO Chief Scientist Dr Cathy Foley is appearing in Canberra as part of the Australian Senate's Occasional Lecture Series while Chief Executive Dr Larry Marshall will appear on ABC TV's Q and A program as part of a technology and
creativity special organised in conjunction with the Vivid Sydney festival.
What has CSIRO ever done for us?
Dr Foley's lecture – to be delivered in the Australian Parliament and broadcast live online – focusses on the contribution of government research laboratories. Through funding organisations such as CSIRO, ANSTO and DST; the Australian Government enables the employment of thousands of scientists and technical support workers.
The discussion is expected to canvas the changing nature of research including the disruptive impact of the digital revolution including artificial intelligence, automation and robotics. Dr Foley will also examine how "the combination of digital and interdisciplinary research addresses some of Australia's greatest challenges such as the provision of water, energy, food, health and wellbeing, future industries and regional safety."
Why do we fund government research labs? What have they done for us?
Marshall to front Q and A
Dr Marshall will appear on the ABC's Q and A program as part of a special episode organised in partnership with the Vivid Sydney festival. The live TV show will focus on technology and creativity, exploring how humans are being affected by technology and what this means for future society.
The CSIRO Chief Executive will join host Tony Jones on a politician-free panel of guests. This will include writer and musician Adam Briggs, journalist and TV producer Faustina Agolley, Atlassian co-founder and co-CEA Mike Cannon-Brookes and psychologist Jocelyn Brewer.
Q&A Vivid
Featuring Dr Larry Marshall
From 9.35pm (AEST) Monday 10 June
Broadcast live on ABC TV or online via ABC iview https://iview.abc.net.au/