The Delegate Experience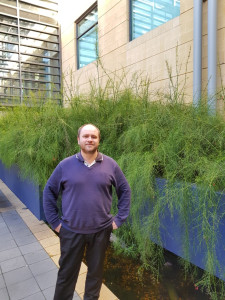 So, what does it take to be a delegate? For many union members at CSIRO the prospect of taking on a representative role can seem daunting. But what's the reality of the delegate experience?
The Staff Association recently spoke with three delegates to find out more.
IT'S A MINOR milestone. Tim Moore just marked ten years with CSIRO. A research engineer who works at the Newcastle Energy Centre, Tim's current work is focused on the grid-integration and storage of renewables and he admits there's a bit of pressure, especially given the attendant public debate.
"It's an exciting and a busy time. There's a bit of pressure. Australia – in policy sense – is a little behind the eight ball, we need to get on top of energy storage in a way we haven't done yet; so the pressure is on and CSIRO is happily a big part of coming up with a solution," Tim said.
Vicky Boyd is also hunting for answers. The veteran experimental scientist from Geelong's Animal Health Laboratory is spending a lot of her time away from the facility performing fieldwork as part of the Buruli ulcer project; tracking down a flesh-eating bacteria that's increasingly active in the Mornington and Bellarine Peninsulas.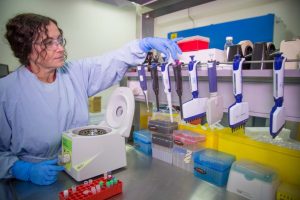 "That's what I'm doing at the moment, doing a lot of field work and trying to get to the bottom of why it is that people are catching this bacteria," Vicky said.
"Where does it lurk, how does it get passed around, what's the vector? We're trying to learn more about it because it appears to be rising in numbers."
For Jack Kelly, the challenge is harnessing data to help the Queensland Government drive new approaches to public policy and service delivery.
More information 
"I've worked at Data61 for just over two years, was previously based at Black Mountain and I've just moved up to the Fortitude Valley in Brisbane as part of the Queensland Functional Program Lab," Jack said.
"In addition to my normal programming, engineering and design work, we're currently working on a presentation for the 2019 edition of D61 Live, which will showcase our work for business and government."
Starting out
Jack's been a delegate for nearly twelve months.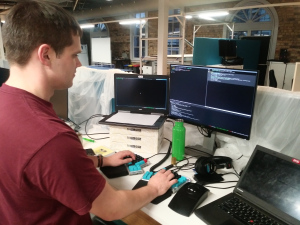 "I joined the Staff Association pretty much straight away because I figured the best chance of getting a fair deal from Data61 and CSIRO was by being a part of the union.
"I started getting more involved by helping out my friend – who was the delegate at the time – just lending a hand here and there. Then my friend announced they were moving on from D61 and I said ok I'll put my hand up."
Both Tim and Vicky became more active during the campaign against CSIRO funding cuts that began in 2014.
"I don't think anyone approached me directly… I was friends with the other delegates at the time, so I knew what they did day-to-day," Tim said.
"I think actually it was an email from the Staff Association that made me think I could have a stab at that.
"My work as a delegate started during the height of the support CSIRO campaign, after the 2014 budget had been handed down and the cuts were starting to come through. We wanted to make sure that the public was aware of that and that the public had a chance to get behind CSIRO."
"I've always been a strong union person, grew up in a household where parents talked about the union and their importance," Vicky said.
"So, for me it was a no-brainer, as soon as I'd come to work for CSIRO I'd join up with the union."
"I was always interested in doing more union work. We started to see more union campaigns at work – around CSIRO job cuts – and there was an appeal for help. So, a few of us at the time – there were about five of us – decided to help as campaign volunteers.
"We had a rally to save CSIRO with a protest outside the Laboratory gate house; and we could certainly see the value in that action. Later on the same year we signed up as delegates as well."
Trained up
CSIRO Staff Association delegates have access to professional training through CPSU and all three have completed courses.
"I completed the CPSU's Delegate Foundations course which was pretty good," Jack said.
"It was well run and very interesting. I found the training helpful."
Tim has also completed training with CPSU.
"I did a two-day course on delegate foundations in 2016 and I've got plans to do the advanced course. It was useful to see what the experience is like for other delegates in other workplaces."
Vicky agrees. "I've completed both beginner and more advanced courses. The training is good and helpful, I found it very useful.
"The opportunity to meet delegates from other public sector organisations and to find out their experiences and what they go through, I found that really interesting."
Support time
It's still early days for Jack.
"I haven't found the extra workload too much, so far. There was one individual matter early on that was a little too complicated for a new delegate, so the Staff Association office handled that one. I think there will be more work when it gets busier; for example during bargaining."
"One on one meetings – where the delegate supports a member or co-worker – can be difficult but there's always support either from the organiser or fellow members," Vicky said.
"People sometimes need a sympathetic ear or some reassurance and sometimes a delegate can provide it. Often just giving people an opportunity to get it off the chest is enough," Tim said.
"One of the highlights of the role is knowing that when people are having a rough time you can be there and make them feel better and let them know that at the end of the day there is someone standing behind them just like the union is there standing behind them."
For consideration
So, any advice for Staff Association members considering a delegate role?
"It's not as hard as it looks," Jack said.
"Training is helpful. If things are too spicy the Staff Association can provide advice or take over. It's definitely the sort of position you can grow into rather than having to be completely ready for every single thing from Day One."
"At the very least talk to your local delegate about what's involved and have a think about giving it a go. It does involve a time commitment but it's well worth it," Tim said.
"Get in contact with other delegates people who are actually doing the job now you'll get an honest evaluation and a honest opinion," Vicky said.
"Just jump in and do it, do as much as you can. When you can do more, take on more. You'll always have support."
More information