Government shifts rhetoric on public sector staff cap and outlines pathway to exemption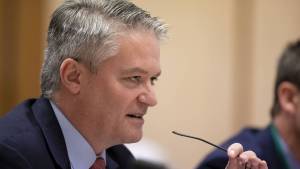 The Federal Government has changed its tune on staffing cap restrictions in the federal public sector and outlined the process for departments and agencies to follow for consideration of an exemption.
In testimony before Senate Estimates, Finance Minister Mathias Cormann responded to specific questions about the impact of the Average Staffing Level (ASL) cap at CSIRO; practically encouraging the organisation to apply for an exemption.
Staff Association Secretary Sam Popovski welcomed the comments.
"It's an indication that the Staff Association campaign against the ASL cap in CSIRO is gaining traction but more importantly it provides a clear pathway for Larry Marshall and the Executive Team to seek an exemption."
Change of language
"The (ASL cap) policy was a core part of our budget repair effort as we were asking all parts of the community to help get the budget back into surplus… Obviously, now that we are in surplus, that environment has changed, but we will continue to make sensible decisions when it comes to making decisions on additional Public Service resources," Minister Cormann said.
"Once an agency has assessed whether there's opportunity to reprioritise existing resources, if there is still an identified need to deal with an identified priority of government then we will make those additional resources available."
"There's no limit to the capacity to of the Government to make decisions to provide additional resources provided as long as we have been satisfied that a genuine effort has been made to reprioritise existing resources and as long as  that there's a case in the public and indeed the country's interest."
Seek an exemption
"If there is a good case as to why the additional [average staffing level] are required (at CSIRO) and the explanation is provided that the opportunity for re-prioritisation of existing resources has been exhausted, that absolutely can and would be considered by the Government."
"I'm not personally aware… I don't believe that I've been presented with a request to provide an exemption by the CSIRO.
"If the CSIRO has a proposition that they can make lots of money externally as long as they employ more staff that they haven't currently got available the first point of call would be obviously to work a proposal through with their Minister and for that process to be managed through the proper process," Minister Cormann said.
Cap starting to slip?
"Cracks are beginning to appear in the Government's hostile and impractical public sector staffing cap," said CPSU National Secretary Melissa Donnelly.
Minister Cormann's comments followed an earlier announcement that an additional 800 more staff – part of an ASL cap exemption – would be employed by the National Disability Insurance Agency (NDIA).
"It's a great win for staff in the NDIA and the many thousands of Australians with a disability and their families and carers.
"CPSU members have been campaigning hard and building community awareness of the problems created by understaffing in the public sector. We have drawn a direct link between the impact on public services and staffing levels," Ms Donnelly said.
Related media