Melissa Donnelly appointed as CPSU National Secretary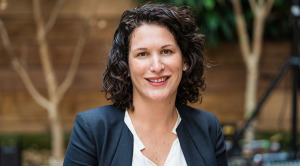 It is difficult to write a profile of new Community and Public Sector Union national secretary Melissa Donnelly. Not because she is evasive or rude – she answers every question thoughtfully – but for every question about her as an individual or the role of the national secretary, Ms Donnelly turns the answer back to the work of delegates and members, writes Sally Whyte.
At 38, she is the youngest ever national secretary to lead the union, and only the third ever woman, which is somewhat surprising in an industry where women usually outnumber men.
Ms Donnelly was elected by the union's governing council recently after the resignation of Nadine Flood for health reasons and will face a full election by members next year.
Starting her career as a lawyer in private practice, Ms Donnelly moved to the union in 2005, and cut her teeth working on its Federal Court case to give public servants the ability to participate in the Your Rights at Work campaign. Since then Ms Donnelly has risen through the ranks and has served as deputy national secretary since 2015.
The changing of the guard happens at a busy time for the union, with a number of big enterprise agreements set to expire in the next year, including three of the federal public service's biggest agencies – the tax office, Defence and Human Services.
But it's unlikely there will be any major change in approach, even as upcoming bargaining rounds will again face the government's strict bargaining policy, which limits pay rises to 2 per cent a year unless savings are made elsewhere.
"Our position always has been and continues to be that there should be genuine negotiations," Ms Donnelly said.
"That's what staff deserve – they deserve the opportunity to have a genuine bargaining process with their employer."
Responding to Prime Minister Scott Morrison's recent address to the public service, in which public servants were reminded their role was to serve the government's agenda without freelancing or letting internal bureaucratic battles get in the way, Ms Donnelly said public servants had more to contribute.
"The APS has incredible capacity and incredible opportunities in terms of what it does deliver and in terms of what it can deliver for the community," she said.
"Part of that is and needs to be bringing a wider range of public sector voices into key policy debates – for example in the Department of Human Services the insights you get from someone who works in a Centrelink service centre or a Centrelink smart centre give you a whole range of perspectives about how services should be delivered."
Related content
In an environment where public servants are discouraged from posting about anything political on social media, as well as facing a more tightly defined remit in internal policy debates, Ms Donnelly said the union would be playing a big role in public policy debates as well as defending members.
"One of the things that's different about the public sector to other industries is sometimes even the senior leaders in the public sector can't be public champions for the public sector given the range of responsibilities they face, so I think our members can and should expect us to be a champion for the public sector," she said.
Treatment of whistleblowers is a "big concern," Ms Donnelly said, not only for those trying to draw attention to corruption or maladministration, but for those who want to be able to speak about political issues they aren't working on.
"Most notably for our members the cracking down on what they are saying on social media, even anonymously, the ability to make any comment, given the breadth of the work the public service does, that's really problematic," she said.
"Whether it's about climate change strikes or your view on any range of issues, you could potentially find yourself in trouble with your employer for any view you have on that, that you express on social media."
Along with industrial relations and other matters expected of the union, Ms Donnelly said looking after the mental health of workers was an area the union would be working on.
"Mental health at work is now a growing workplace issue, it relates entirely to a number of issues around how work is monitored, how work is scheduled, workloads, staffing cuts," she said.
"I think there's an important space where the CPSU is increasingly playing in that field."
With a CV similar to many union bosses and new Labor MPs – Ms Donnelly is on New South Wales Labor's administrative committee and is a director of Telstra Super and the left-leaning think tank the McKell Institute – it's reasonable to ask if the new secretary harbours political ambitions.
"I'm very committed to the CPSU and to the CPSU delegates and members and this is where I intend to stay," Ms Donnelly said.