Chief Scientist makes the case for Government Laboratories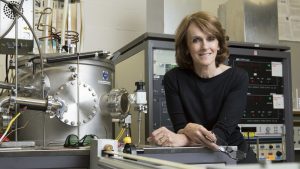 CSIRO Chief Scientist Cathy Foley used a lecture sponsored by the Australian Senate earlier this year to make the case for government laboratories and publicly funded research agencies.
Part of the Senate's Occasional Lecture Series, Dr Foley's compelling presentation sought to explain the history and contribution of government labs to Australia and the wider world.
Dr Foley also discussed current and future challenges in a rapidly changing world and how organisations such as CSIRO were devising strategies to ensure Australia would be able to adapt and thrive.
History and funding
Starting with the establishment of the Australian Bureau of Statistics (ABS) in 1905, Dr Foley ran through the creation of Australia's government funded research agencies, ending with the creation of the Australian Space Agency in 2018.
Dr Foley also explained the funding arrangements for Australia's science and research; including the split between government appropriations and external revenue as well as workforce numbers and other performance indicators.
Organisational profiles
The organisations in focus included the National Measurement Institute, the Australian Nuclear Science and Technology Organisation, the Australian Institute of Marine Science, the Defence Science and Technology Group, Bureau of Meteorology and the newly created Australian Space Agency.
CSIRO's role and achievements featured as a case study and included a selection of some of the organisation's celebrated inventions.
"I actually think that government labs are hidden gems. They are mission directed so it's not like they go off and do whatever they want to research on; they're working for a purpose," Dr Foley said.
Looking forward
It's a rapidly changing world and the adoption of new technology might seems unprecedented; however Dr Foley was keen to point out that we've seen similar circumstances in the not too distant past.
Australia faces significant challenges and as the nation's premier science agency, CSIRO has done the work mapping these out and how the nation might best adapt.
A personal reflection    
In her closing remarks Dr Foley reflected on her own career at CSIRO including research highlights and sense of vocation and contribution.
Complete lecture
Related content