Parkes, Narrabri radio telescopes set for upgrade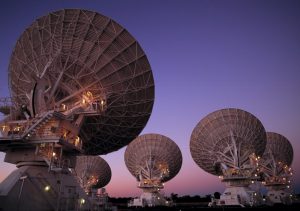 Two key pieces of Australia's radio astronomy infrastructure will receive new technology with CSIRO managed facilities in Parkes and Narrabri to receive a funding increase.
The grants are made available through the Linkage Infrastructure, Equipment and Facilities (LIEF) program, managed by the Australian Research Council.
"This boost for CSIRO space science in Parkes and Narrabri is very welcome, especially given the pressure over years of funding and job cuts," Staff Association Secretary Sam Popovski said.
"However, it's important that funding to improve infrastructure is backed up by investment in CSIRO people. Unfortunately, the continued imposition of the Federal Government's staffing cap is making that much more difficult," Mr Popovski said.
Parkes
A $1.15 million LIEF grant will help fund a joint project with the University of Western Australia (UWA) to construct a new sensitive receiver for the Parkes telescope called a 'cryoPAF'.
The cryoPAF will sit above the radio telescope once completed and convert radio signals reflected up from the dish surface into electrical signals; which can be combined to increase the field of view three times more than the current instrument.
UWA researchers will commission and coordinate construction of the cryoPAF and CSIRO will design, build and install the new instrument.
Narrabri
The Australia Telescope Compact Array in Narrabri will receive a $530,000 LIEF grant to support a larger $2.6 million upgrade project.
Eight universities – headed by Western Sydney University – will partner with CSIRO to carry out the project. The installation of a new digital signal processer is predicted to double the bandwidth of the telescope's signal electronics.
"The upgrade will enable the telescope to study radio counterparts to gravitational wave sources, and it will enable it to make detailed observations of initial discoveries made with the Australian Square Kilometre Array Pathfinder and other Australian telescopes," WSU Professor Ray Norris said.