Staffing level restrictions for CSIRO are set to ease, however the federal budget contained no new spending measures for the organisation and failed to provide anticipated detail to back up recent Government policy announcements.  
The budget documents show that average staffing levels (ASL) are set to increase by 396 to a total of 5,414 at CSIRO over the next financial year, marking the effective end of the Government's staffing cap policy.
CSIRO Staff Association Acting Secretary Susan Tonks welcomed the development.
"This is a positive outcome for CSIRO, and in particular for the many Staff Association members and delegates that campaigned to scrap the staffing cap over recent years," Ms Tonks said.
"However, the management of ASL at CSIRO and the organisation's recruitment policies remains opaque and the Staff Association is seeking clarification the numbers revealed in the budget papers.
Staffing decline
Taken together with last October's budget figures, employment at CSIRO has continued to decline despite the easing of staffing restrictions this financial year.
For financial year 2019-20 – when the staffing cap was strictly applied – CSIRO recorded an ASL of 5,141 which was projected last October to grow to 5,351 by 30 June 2021.
Yet the updated budget information currently has CSIRO ASL at 5,018 which is actually 2.4 per cent lower than last year's projection.  
| | | |
| --- | --- | --- |
| CSIRO ASL – October 2020  | Actual 2019-20 | Projected 2020-21 |
|   | 5,141 | 5,351 |
| CSIRO ASL – May 2021  |   |   |
|   | Actual 2020-21 | Projected 2021-22 |
|   | 5,018 | 5,414 |
Source: DISER Portfolio Budget Statements
Workload pressure
A recent management survey identified workload pressure as a major factor driving anxiety among CSIRO staff, alongside stress due to project delivery and unrealistic deadlines.
"It's increasingly clear that reduced staffing levels at CSIRO are contributing to workplace stress and anxiety," Ms Tonks said.
"The Staff Association calls on CSIRO Executive to take urgent action to increase secure jobs under our Enterprise Agreement to address workloads and deliver on projects and work for Australia's future."
"I have written to Chief Operating Officer Judi Zielke requesting a meeting to discuss plans to increase CSIRO staffing levels and the effectiveness of the organisation's recruitment strategy," Ms Tonks said.
Mixed messages
In an email to staff, Ms Zeilke confirmed that there were no new spending measures, despite several high-profile Government announcements made before the budget that namechecked CSIRO.
"There is no change to appropriation funding for CSIRO following the Government's additional funding commitment in October's budget of $459 million over four years, to address any reduction to our external revenue resulting from the impact of COVID-19," Ms Zielke said.
Ms Zielke went on to profile "a number of new initiatives that CSIRO will be involved in" such as the new National Artificial Intelligence Centre managed by Data 61, funding for the construction and build for the Square Kilometre Array, a new agriculture and biosecurity package, energy technology and the Australian Climate Service.
"Through these initiatives, we will continue to work with industry, government, and the research community to turn science into solutions to address Australia's greatest challenges," Ms Zielke said.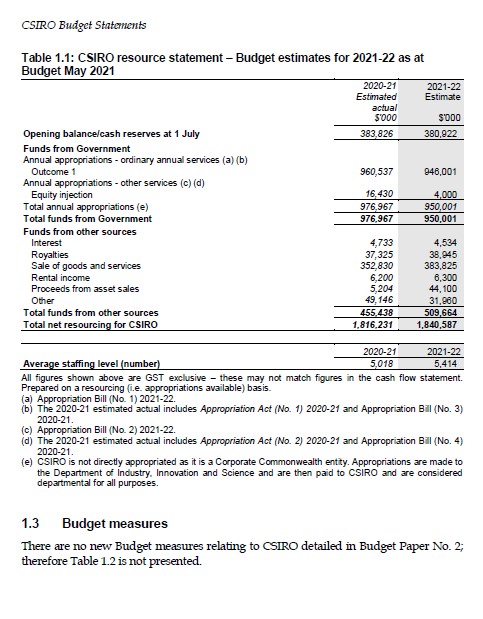 Lacking detail
Elsewhere, the Government announced a commitment to develop a local mRNA manufacturing capability but provided no detail on the cost of the venture.
'The Government will provide funding to the Department of Industry, Science, Energy and Resources to work with the Department of Health to develop an onshore mRNA vaccine manufacturing capability in Australia,' the budget papers state.
'This will ensure onshore vaccine supply and maximise future potential by leveraging the flexibility of the mRNA platform and its potential long-term applications.'
'Funding for this measure is not for publication due to commercial in confidence sensitivities.'
Related content