CSIRO staff are demonstrating significant adaptability and resilience despite major disruption and changes to work practices due to coronavirus, however workloads and mental health loom as emerging challenges, according to a recent survey.
Almost four hundred (387) Staff Association members participated in the Covid progress survey, which was conducted in late July, nearly six months since the emergence of COVID-19 in Australia.
"CSIRO staff have continued to work diligently during the coronavirus pandemic, often in the laboratory and on site but increasingly from the lounge room or home office," Staff Association Secretary Sam Popovski said.  
"And while staff have adapted and displayed admirable resilience, we're concerned on some of the long-term effects, especially as fatigue sets in. Our future engagement with CSIRO management will increasingly focus on mental health and wellbeing."
"Staff need to feel like they have had a break from work, physically and mentally," Mr Popovski said.
Survey respondents recorded a high level of satisfaction (80.5 per cent) with the quality of communication from CSIRO leadership.   
Working from home
The vast majority of participants (87 per cent) reported either working from home exclusively or engaging in a mix of on-site and remote activity since March 2020. Just on half (50.3 per cent) of staff surveyed agreed that working from home was as productive as working on site.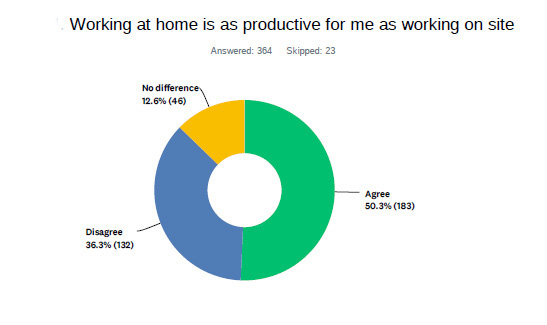 'It's much more productive!' one participant said, while another stated that there are 'no disturbances at home like at work.' Others pointed out that the home environment contributed its own share of distractions. 'Working from home assumes not being interrupted by family members… the result is less productivity.'
Two thirds (66.7 per cent) of respondents reported that the home work set-up was satisfactory, however comments revealed that staff would appreciate an increase in resources to support continued remote working; with many mentioning items such as chairs, adjustable desks and additional peripherals such as monitors and displays.
More information 
Nearly three quarters (74.5 per cent) agreed that working from home provided flexibility to balance work and personal responsibilities. 'The extra time normally spent in travel to and from site each day means I can do more with the family, school pickups and such' said one participant. 'I like being able to put the washing on during a break or cook a lunch,' said another. 'I have been able to check in with family members more often when working from home.'
Working on site
For those at CSIRO workplaces, most respondents (60.5 per cent) reported sufficient cleaning, hand sanitiser and distancing arrangements were in place. Practical problems did feature in some of the comments, however.
'Distancing in a lab environment is difficult,' said one respondent. For another, a lack of information on hygiene measures is a problem, as 'we are simply not aware of the cleaning that is being done. It seems like touch screens and shared desks in meeting rooms might not be cleaned at all between uses.'
Almost a third (31.7 per cent) expressed the desire to do more work on site but were following public health advice to remain home. A quarter (25.1 per cent) of those working from home reported doing less experimental research, whereas this dropped to 7.8 per cent for those respondents remaining on site.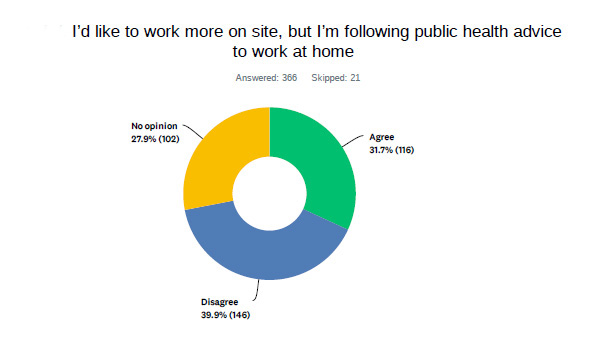 However, some staff did comment on the effect on experimental work and field research. 'I still did the same amount of experimental work but at slower pace,' said one respondent. Another stated that 'we have had to put field work on hold, and we are missing opportunities to progress.'
Workloads and mental health
There were mixed findings on the use of virtual meetings; Nearly 40 per cent (39.8) of participants felt they were asked to attend more than they would prefer while the same number disagreed with the proposition. More than half (56.7 per cent) of staff surveyed felt that virtual meetings were as productive than in-face gatherings and nearly three quarters (72.8 per cent) of respondents reported that effective collaboration could be achieved online.
A sizeable minority (38 per cent) of participating staff reported an increase in workloads. 'I am working longer with less breaks,' said one. 'My work loads have increased due to Covid and I'm struggling to strike the right balance,' stated another.
More than one third (34.4 per cent) of respondents said they had some concerns of achieving project targets and or Annual Performance Agreement milestones.
Over a third (37.6 per cent) of CSIRO staff surveyed claimed increased stress due to work. And while for many work has proved a refuge, more than half (55.3 per cent) agreed that the general state of the COVID-19 pandemic was causing anxiety.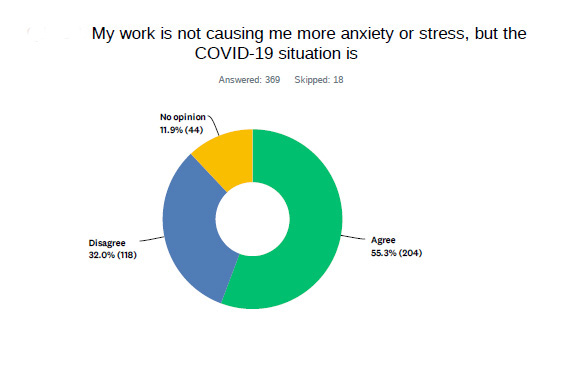 'I think that the COVID-19 situation is causing more anxiety and stress and that is feeding into the work environment,' one employee stated. 'The COVID situation is causing me so much stress' said another, 'especially now with this second wave.'
Nearly 80 per cent (78.8) of respondents reported accessing leave on at least one occasion since March, however the comments revealed that in many cases the use of sick or carer's leave or small amounts of recreational entitlement rather than long breaks.
The effectiveness of recreation leave was questioned by a majority (55.7 per cent) of participants who felt that accessing the entitlement would not deliver the break they need.
'Recreation leave at this point in time is redundant,' said one respondent. 'I can't go anywhere or do anything but sit inside. Not my idea of a break.'
The new normal?
21.3 per cent of participants expressed a desire to work more from home but were currently limited by job requirements to remain on site.
When asked to imagine a future where COVID-19 was eliminated from Australia, staff were more clearly split between on site work versus remote arrangements; with 39.4 per cent preferring to work at home and 43.2 per cent wanting to return to the workplace.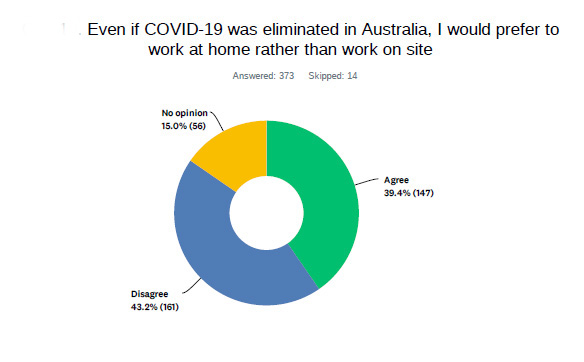 Many respondents commented in favour of a hybrid model. 'I would prefer a mix of both work from home and in the office,' and for some 'three days on site and two days at home' would strike the right balance. Another simply stated that a 'mix of home and the office would be perfect.'
These sentiments appear to be reflected among workers across the federal public sector. A wider survey of Community and Public Sector (CPSU) members conducted in partnership with university researchers has demonstrated strong support for the continuation of working from home arrangements.
The study surveyed almost 6,000 Australian Public Service (APS) employees about how they had worked from home during the current pandemic. Headline results revealed that 82 per cent of recipients reported more time for themselves and family and 64 per cent claimed they could achieve more work while at home.
91 per cent of managers who participated stated that staff were as productive or more so working from home and 64 per cent of supervisors said they likely or somewhat likely to approve working from home requests after the pandemic.
"Working from home, works. The success of the last few months shows that the APS should trust its workers. In fact this research shows that people can be more productive and management welcomes it," said CPSU National Secretary Melissa Donnelly said.
The full CPSU report will be released in September.
Related content