Bargaining storm intensifies at The Bureau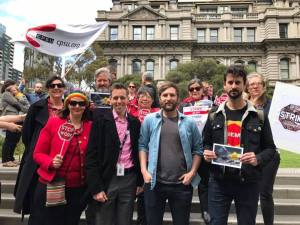 CPSU members in the Bureau of Meteorology have completed another round of rolling strikes as management continue to push unacceptable cuts to rights and conditions.
The two weeks of rolling strikes were accompanied by other forms of industrial action including a ban on fielding media inquiries – except those relating to severe weather.
This most recent round of industrial action represented the latest salvo in the three-year bargaining battle at the Bureau to protect workplace conditions and rights.
Staff speak out
Union members and supporters from the public rallied outside Bureau of Meteorology (BOM) headquarters in Melbourne in a colourful show of unity.
"All we're asking is to keep our current rights and conditions," a workplace delegate said in a speech at the rally.
"Management are saying any new agreement must cut our entitlements, conditions and allowances. We rely on these to put food on the table, pay our bills and to support our families.
"We won't accept an offer that strips the Bureau's obligations to consult with staff. We've seen what so-called consultation looks like at the Bureau. Informing us of a decision and ramming through changes is not consultation!" the delegate said.
Stepping up action
Similar rallies and stop work meetings were held at other significant BOM workplaces including Sydney, Brisbane and Adelaide.
"Weather Bureau staff are taking action because their bosses are still pushing a hard-line agenda of unreasonable cuts to rights and conditions," CPSU Deputy Secretary Beth Vincent-Pietsch said.
"The Bureau is one of only a handful of Commonwealth agencies that's still without a new enterprise agreement, clearly signalling it is only management that is standing in the way of a fair and reasonable agreement."
Bureau management is led by ex-CSIRO Executive Dr Andrew Johnson, who took over as Director in September last year from Dr Rob Vertessy, the former head of CSIRO Land and Water.
Change the rules
"BOM staff have now gone more than four years without a pay rise. It's ridiculously unfair that they're still having to fight to keep the rights and conditions they've got now.
"Clearly the rules around enterprise bargaining are broken and need to be fixed," Ms Vincent-Pietsch said.