Keeping track of progress in bargaining at CSIRO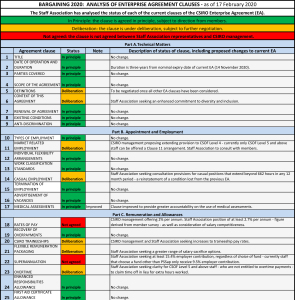 As union and management representatives continue to make decent headway at the bargaining table, the Staff Association has produced a dynamic analysis document to allow members to track the progress of CSIRO negotiations at clause-by-clause.
Meanwhile, the Staff Association has launched a survey seeking the opinions of members on Postdoc employment conditions at CSIRO, to represent these views during Enterprise Agreement (EA) negotiations.
Encouraging progress
"This year good progress has continued to be made in bargaining negotiations," Staff Association Sam Popovski said.
All clauses in Parts A to G of the current Enterprise Agreement have already been discussed. Of the 80 EA clauses in Parts A to G, 56 are agreed in principle, 22 are in deliberation and 2 clauses – rates of pay and superannuation – are not agreed.
Of the 56 clauses that are agreed in principle, 53 are proposed not to change from the current EA and 3 clauses – management accountability, non-cash recognition rewards and medical assessments – have been improved.
EA tracker
"The Staff Association has launched a dynamic analysis document to chart the status of all clauses as negotiations progress," Mr Popovski said.
"This EA tracker will be updated following negotiation meetings and provides a resource for Staff Association to chart both the broad course of bargaining as well as the finer details of negotiations."
Postdocs survey
Mr Popovski said the Staff Association is committed to advancing the interests of postdoctoral fellows in bargaining, including through improving postdoc conditions (Part 3 of Schedule 2 of the EA) which is coming up for negotiations.
"To further support our bargaining position, we ask all members to complete our quick snap survey on postdoc conditions now."
The survey is strictly confidential and will take only a few minutes to complete.
Postdoc bargaining survey
Complete our confidential, postdoc employment conditions survey here.