Staff representatives plan next steps in ASL campaign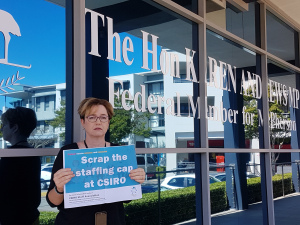 Staff Association representatives will use a national council meeting this week to plan next steps in the campaign against the implementation of the Government's staffing cap at CSIRO.
CSIRO Section Councillors – directly elected by Staff Association members from across the country – will meet in Melbourne to determine the union's direction in 2020; with particular focus on the twin issues of enterprise bargaining and Average Staffing Level (ASL) cap restrictions.
The meeting comes as the latest staffing figures from CSIRO management show the loss of nearly 400 jobs in the last six months as ASL pressures escalated.
Campaign review
"The Staff Association has been campaigning against the ASL cap in CSIRO for more than twelve months, so it makes sense to use this council meeting to conduct a comprehensive review," said Staff Association Secretary Sam Popovski.
"Councillors will consider our strategy and tactics, key objectives, current status of CSIRO employment and engagement of contractors and labour hire and feedback from delegates and members.
"We'll then determine the next steps in the campaign, including activities and timeframes to seek to achieve the key objectives; with consideration to current and likely future restructures and initiatives impacting on staff," Mr Popovski said.
Job numbers
Mr Popovski said the latest jobs data from CSIRO Executive – showing the loss of 387 positions from 30 June to 31 December 2019 – clearly demonstrated the destructive impact of the ASL cap.
"Most of the job losses have been in casual and specified term contract positions. CSIRO's ASL figure at 31 December 2019 was 5,249, just short of the target figure for the current financial year of 5,193. However, the jobs picture at CSIRO remains incomplete due to a lack of transparency on the use of contractors and labour hire."
"Staff Association members have reported the widespread increase in the use of outsourcing across the organisation, but CSIRO Executive have yet to provide up to date information on the use of external contractors and labour hire amid the ASL cap restrictions," Mr Popovski said.
Council agenda
In addition to the financial and strategic operation of the Staff Association, the Council meeting will also focus on enterprise bargaining, CSIRO restructures and health and safety.
"Council will examine the progress of CSIRO enterprise bargaining, including Staff Association strategy and tactics, the progress of negotiations, key Enterprise Agreement clauses, CSIRO Executive's approach and feedback from delegates and members.
"Other issues up for discussion include the upcoming health and safety campaign, developments in communications and a discussion of the Staff Association relationships with other organisations including research peak bodies, community groups and other non-government organisations," Mr Popovski said.
Have your say
Email [email protected] with questions or discussion suggestions for the upcoming Staff Association Council meeting.